KC Royals News: Extra draft pick, Bobby Witt Jr. and more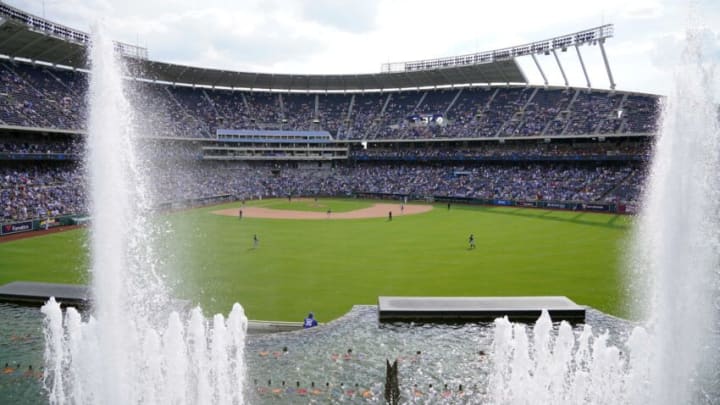 (Mandatory Credit: Denny Medley-USA TODAY Sports) /
Here's some KC Royals news while we wonder if Zack Greinke will be Kansas City's Opening Day starter.
The annual summertime talent frenzy that is the major league amateur draft will, for the second straight year, be a feature of baseball's All-Star Game party. MLB will stage the event July 17-19, with the last of its scheduled 20 rounds winding up just hours before the Dodgers host the Game in Los Angeles. And the KC Royals stand in prime position to pick up some top shelf players early.
Kansas City has the ninth overall selection, which means they'll choose before 21 of the other big league clubs. They then get another pick before the second round even begins—the club has been awarded the third pick in the first Competitive Balance Round (Competitive Balance A) which will be sandwiched between the first and second rounds.
Kansas City has landed some high-profile players with previous Competitive Balance A selections. It snared Nick Loftin in 2020, Kris Bubic in 2018, Foster Griffin in 2014 and Sean Manaea in 2013.
KC Royals infielder Bobby Witt Jr. just earned another top prospect rating.
Will the early career accolades for Bobby Witt Jr. ever end? Witt, previously well-awarded for his excellent 2021 minor league performance, claimed the spotlight again Thursday when MLB Pipeline ranked him as its No. 1 big league prospect. He was already Pipeline's top Kansas City prospect.
Other Royals making Pipeline's Top 100 list are catcher MJ Melendez, first baseman Nick Pratto and pitcher Asa Lacy.
How did the KC Royals make room on their 40-man roster for Zack Greinke?
Few, if any, Kansas City fans don't know by now that the Royals are bringing back pitcher Zack Greinke, who agreed to rejoin the club Wednesday.
Reuniting with Greinke, however, meant the club had to clear space for him on its 40-man roster. Sending relief pitcher Tyler Zuber, troubled by shoulder impingement, to the 60-day Injured List did the trick.
Fans get several opportunities to see and hear the KC Royals this spring.
Major league clubs lost exhibition games to the lockout. But with baseball back, and per the team, 17 Kansas City contests will be available on TV, radio, or Internet:
And just in case you're wondering who you might see playing, here, via The Athletic's KC beat writer Alec Lewis, is Kansas City's spring roster as of March 13:
Gone now, however, is pitcher Mike Minor, who the club traded to Cincinnati Wednesday for pitcher Amir Garrett (now in camp), and Zack Greinke is an obvious addition following his Wednesday return.
The Royals have two early draft picks, their top prospect gets recognized again, and fans get plenty of opportunities to check in on the club's Cactus League games.