KC Royals: Buck O'Neil and some baseball memories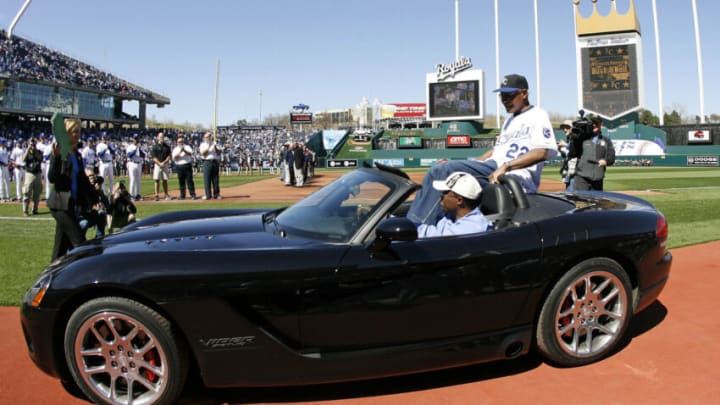 (Photo by G. N. Lowrance/Getty Images) /
(Photo by Mark Rucker/Transcendental Graphics/Getty Images) /
This past weekend, a major wrong was finally righted when the legendary Buck O'Neil was elected to the National Baseball Hall of Fame. It was an honor O'Neil should have received long before his death 15 years ago, but the former KC Royals scout has finally gained his rightful place in Cooperstown.
Many, many career events created great O'Neil memories. Here are a few.
Before he was a KC Royals scout, Buck O'Neil was an excellent Monarch.
O'Neil began his professional baseball career with the Memphis Red Sox of the Negro American League in 1937. He hit .294 with four triples and four RBIs, and scored five runs in nine games before making his home in Kansas City when he joined the Monarchs in 1938.
O'Neil helped the Monarchs win four straight Negro American League pennants from 1939-1942 and the 1942 Negro World Series.
After serving in the Navy in World War II, O'Neil returned to hit .353 in 1946 and win the Negro American League batting title. He then hit .333 with two home runs in that season's Negro World Series, but the Monarchs lost to the Newark Eagles.
O'Neil became the Monarchs' player-manager in 1948 and led the team to two more pennants before retiring.
He had a career .288 average, including four .300-plus seasons. He was also a good fielder, notching a .988 fielding percentage with 63 assists and 80 double plays turned in 10 seasons at first base.
O'Neil was also a three-time All-Star, and played for Satchel Paige's All-Stars who squared off against Bob Feller's All-Stars in a 1946 barnstorming tour.
O'Neil recounted how important this exhibition matchup was in, as reported by Bill Francis at baseballhall.org, the biography he penned with noted writer Joe Posnanski, "I Was Right on Time:"
""I also felt that, even though it was black against white, this tour was an event that could have a real effect on big-league integration, because it took place after Jackie (Robinson) had proven himself, and if a lot of us weren't that lucky, we could at least prove ourselves against big-leaguers in these games.""
O'Neil did make it a point to prove himself, as he hit .333 (6-for-18) during the tour.