2 KC Royals are hoping to add Platinum to their Gold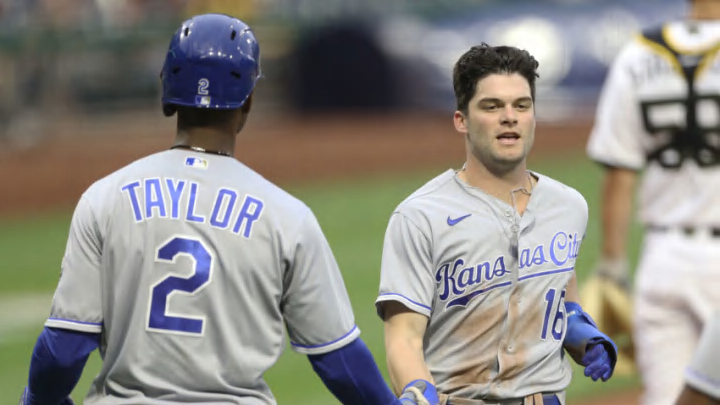 (Mandatory Credit: Charles LeClaire-USA TODAY Sports) /
Soon after the winners of the 2021 Gold Glove awards were revealed a few days ago, award sponsor Rawlings opened up fan voting (now closed) for the Platinum Glove. And two KC Royals were on the ballot.
Although a couple of defensive metrics may have cost Salvador Perez his sixth Gold Glove and Whit Merrifield didn't win at second base, Royals Michael A. Taylor and Andrew Benintendi snagged Gold in center and left field, meaning both are being considered for the Platinum Glove award—all Gold Glove winners qualify for the honor, which goes to the best defender in each league.
The winners—one in the American League and one in the National—will be announced Friday evening at 6 p.m. ET on MLB Network.
Despite Taylor and Benintendi being known for excellent defense before they came to the Royals in 2021, it wasn't until this season that they managed to net their first Gold Gloves. How did they do it?
(ESPN is the source for most of this story's defensive statistics; Fielding Bible is the source for  Defensive Runs Saved).
The KC Royals' pair of 2021 Gold Glovers had excellent defensive statistics.
Although Michael A. Taylor doesn't dazzle on offense, his defense was beyond superb in 2021. He recorded a .992 fielding percentage and 351 putouts, and his 11 assists and 2.3 dWAR placed him first among American League center fielders. He also led all major league center fielders with 19 DRS.
Andrew Benintendi, meanwhile, has shown to be a suitable replacement in left field for Alex Gordon—his win, combined with Gordon's four straight, means Kansas City left fielders have now won five consecutive Gold Gloves. Benintendi's 0.3 dWAR, seven DRS, and 225 putouts led all qualified American League left fielders. He also had six assists and a .987 fielding percentage.
Taylor and Benintendi could join Gordon as KC Royals Platinum Glove winners.
Since the award debuted in 2011, only one Kansas City player has won a Platinum Glove, and he did it twice.
That player was, of course, Gordon.
Gordon won Platinums in 2014 and 2020 and was one of the best fielders in franchise history, ending his major league career with a .994 left field fielding percentage, 102 assists there, and only 17 errors committed in 11,836.1 innings at the position.
Should Taylor or Benintendi win the 2021 award, they'll become the second player in franchise history to do so. No other major league club has ever had more than one player win the Platinum.
Kansas City fans will be watching Friday evening to see if Michael A. Taylor and Andrew Benintendi win Platinum Gloves.