KC Royals' Alex Gordon wins Platinum Award again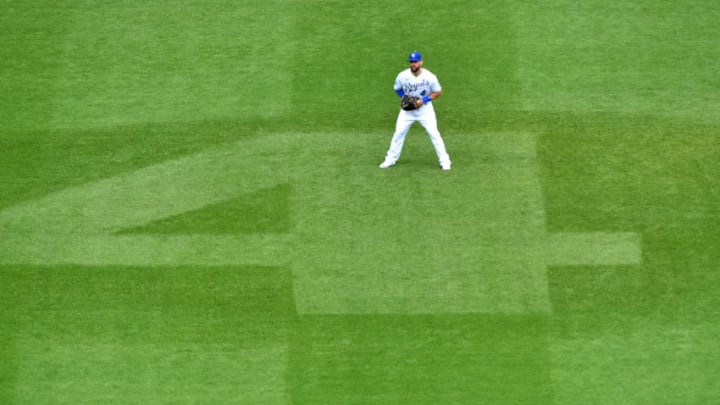 (Photo by Ed Zurga/Getty Images) /
For the second time in his career, the future KC Royals' Hall of Famer is awarded the American League Rawlings Platinum Glove.
We thought a few days ago was the cherry on top of the cake for the career of Alex Gordon as he won his eighth Gold Glove.  It turns out that he will have one more trophy to clear out of his KC Royals' locker as he enjoys retirement.
Rawlings, who produces several products for baseball, developed this award in 2011 to crown the best overall defensive player in each league.  It is a combination of several factors:
"In 2013, a new sabermetric component from the Rawlings Platinum Glove Award's new presenting sponsor, the Society for American Baseball Research (SABR) and its new SABR Defensive Index™ (SDI™) joined the international fan vote to determine the Rawlings Platinum Glove Award winners from each league. The SDI's ability to accurately compare players from different positions helped establish the "science" behind the evolving Award platform. – mlb.com"
Since part of the formula includes fan voting, it could have been a sentimental push that pushed him to victory.  His play in left stands on its own merits though as he committed no errors, chipped in another four assists that pushed his total to 102 in his career from the outfield, and the diving grabs we have come to take for granted.
The decision to come back and play one more year certainly did not go as planned.  Not only were Kansas City fans not able to attend games and cheer him on, but Gordon also had a rough year offensively.  If he would have not signed the contract though, we would have been denied seeing him tie Frank White for the most Gold Gloves in franchise history.
The growth of Gordon after switching from third base was nothing short of spectacular.  The transition easily saved his career as he not only shined defensively but found his place at the plate.
This will probably not be the last time we celebrate Gordon for an award he is being presented.  The question is how long will it take before he is inducted into the building in the Outfield Experience beyond the left field stands – an appropriate permanent placement for the man who ruled that area of the outfield for a decade.