KC Royals Opening Day 2021: What you need to know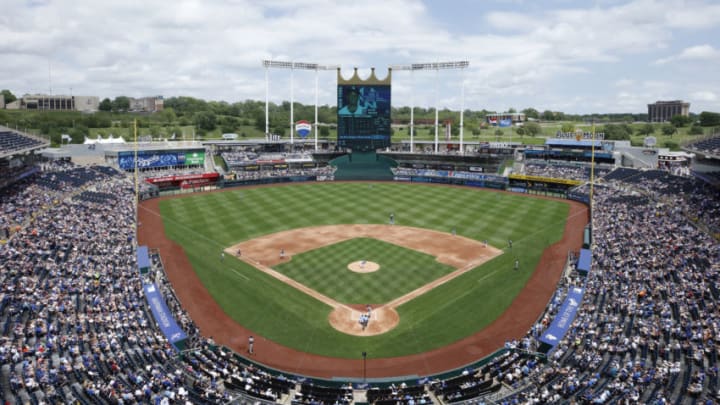 (Photo by Joe Robbins/Getty Images) /
What do well-informed KC Royals fans need to know about Opening Day?
The KC Royals open the 2021 season April 1. For the first time since 2019, they'll be playing with fans in the stands and, for the first time in several years, the team has a realistic chance of approaching .500 baseball.
With the first of 162 games just around the corner, what do you need to know to be in the know?
When and where does the 2021 season start for the KC Royals?
The Royals open at home Thursday against the Texas Rangers. First pitch is scheduled for 3:10 p.m. CDT at Kansas City's Kauffman Stadium. The ballpark opened April 10, 1973, as Royals Stadium and was renamed in honor of original franchise owner Ewing Kauffman in July 1993.
The Royals played their inaugural Opening Day game—and first regular season game ever—April 8, 1969, at Kansas City's old Municipal Stadium, beating Minnesota in extra innings.
Are tickets available for Opening Day?
Good luck finding tickets to the game. The Royals recently sold them out. However, single game tickets are available here for other April games; the club is limiting attendance to 10,000 per contest this month, and several important attendance rules apply.
If I can't be there in person, can I watch or listen to the KC Royals?
Yes. The Royals have extensive radio and television coverage available.
FOX Sports Kansas City, which becomes Bally Sports Kansas City this week, will carry almost all the games; here is where to find the telecasts. Some games will be on ESPN, FOX or FS1. Information about Major League Baseball's subscription package (games are subject to blackout) is available on its website, mlb.com.
Veteran announcer Ryan Lefebvre will handle play-by-play; Rex Hudler will provide analysis. Joel Goldberg and former KC bullpen great Jeff Montgomery will, as usual, handle postgame.
The Royals Radio Network carries all Kansas City games. Wondering how to listen in your area? Just click here. Longtime play-by-play man Denny Matthews, who debuted on the network with the club's very first game in 1969, is back, as are Steve Physioc and Steve Stewart.
Who is the KC Royals' Opening Day opponent?
Kansas City will host the Texas Rangers, who finished last in the American League West Division in 2020 with a league-worst 22-38 record. The Royals' 26-34 was good for fourth in the AL Central.
Among the offseason moves the Rangers made to improve was the hiring of former Kansas City pitcher Chris Young as their general manager. Texas also signed (among others) free agent outfielder David Dahl and pitchers Mike Foltynewicz and Kohei Arihara, but may have lost more key ingredients than they added—gone are pitchers Mike Minor (to the Royals), Lance Lynn, Corey Kluber and Edinson Volquez, outfielder Shin-Soo Choo, and utility man Derek Dietrich.
Look for righthander Kyle Gibson to start for Texas. He was 2-6 with a 5.35 ERA for the Rangers last season after spending the first seven years of his big league career with Minnesota, where he was 67-68, 4.52.
Chris Woodward managers the Rangers. He's 100-122 in two seasons.
Who will start on the mound for the KC Royals Thursday?
Coming off an excellent 5-3, 2.47 ERA shortened 2020 season, fourth year Royal righthander Brad Keller will start for Kansas City. He was 1-1. 5.40 this spring with 12 strikeouts (but eight walks) in 13.1 innings. He was the club's Pitcher of the Year for the second time last season.
Besides Keller, who will be in Kansas City's Opening Day lineup?
Although the team hadn't released its Game One batting order at this writing (Monday night), expect designated hitter Jorge Soler to be joined by this defensive lineup:
Catcher: Salvador Perez
First base: Carlos Santana
Second base: Whit Merrifield
Shortstop: Adalberto Mondesi
Third base: Hunter Dozier
Left field: Andrew Benintendi
Center field: Michael A. Taylor
Right field: Kyle Isbel
What's the next game after Opening Day for the KC Royals?
An open date traditionally follows Opening Day, and this season is no exception. Unless Thursday's opener is rained out, KC and Texas will resume their three-game series Saturday afternoon at 1:10. If the clubs can't play Thursday, they'll likely shift Opening Day to the otherwise Friday off-day.
Opening Day is almost here. Let's hope it's the start of a great season.