KC Royals: Fans are welcome, but best to know the rules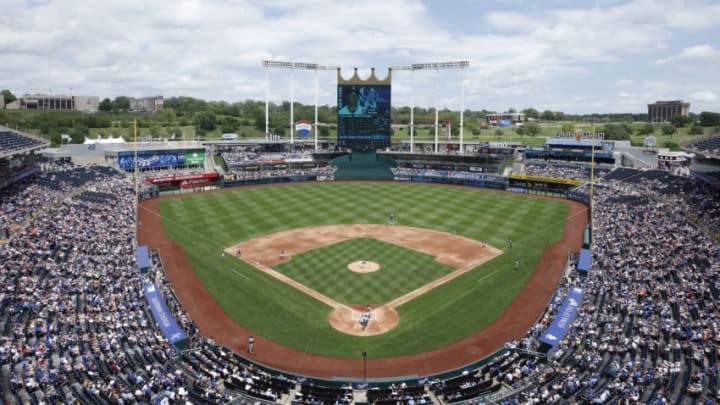 (Photo by Joe Robbins/Getty Images) /
The KC Royals are opening the gates again, but with important new rules.
The always unpredictable Midwest spring weather permitting, the KC Royals will open the 2021 season—and the Kauffman Stadium gates—April 1 when they host the Texas Rangers. It will be the end of a long wait for fans who haven't seen a Kansas City Opening Day in person since 2019.
The Royals last played to a home opener with fans in the stands when they beat the White Sox March 28, 2019; 2020's pandemic-delayed first home game didn't happen until July 31, and then with only players, team staff, selected media, and other essential personnel in attendance.
But this season's inaugural contest, scheduled for a week from Thursday, will be different: as now officially announced by the team, April single game tickets, including for the opener, went on sale today.
Fans eager to get back to the ballpark, though, need to heed ticketing rules and restrictions.
For example, and according to the Royals' announcement, attendance will at first be limited to 10,000 per game, and fans accustomed to simply walking up to Kauffman ticket windows minutes before first pitch will be out of luck. The Royals won't sell any tickets to games on the day they're scheduled—instead, they must be purchased in advance. You're out of luck if you head to Kauffman without tickets for that day's game.
Social distancing will also be the order of the day. All fans must utilize face coverings (except when consuming food or drink), while all seating will be in pods.
Unlike the Rangers, who by virtue of the easing of COVID-19-related restrictions in Texas will be able to fill Globe Life Field to capacity, the Royals' initial 10,000 attendance limit will be in effect through April. However, the club will review that restriction each month; presumably, the number of fans allowed in the ballpark will increase as local pandemic restrictions decrease.
And be sure to bring cash alternatives to Kauffman—the Royals are also mandating cashless payment for all retail sales, including concessions; more extensive details about this restriction, and others brought about by pandemic-related safety and health concerns, are available here.
Kansas City is returning to full-season baseball, but with a few twists and turns. No one can yet be certain when Kauffman Stadium can be packed again, but Royals baseball with fans in the stands will be a welcome change, and just what fans have been looking forward to for over a year.
The Kansas City Royals and Kauffman Stadium are ready for fans again. Be careful to know the attendance rules before you head for the park.