KC Royals: Does remaining schedule help or hurt?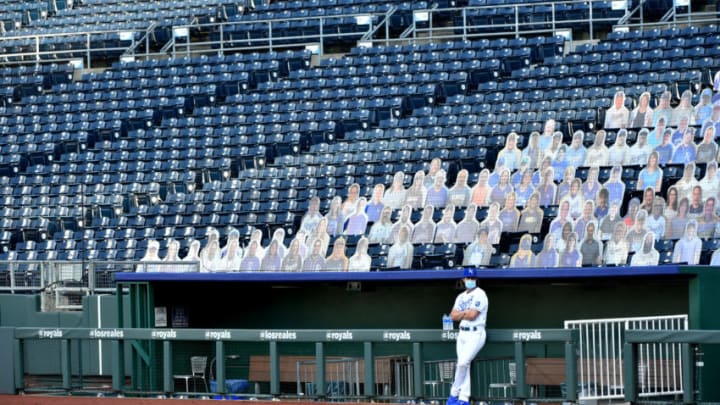 (Photo by Ed Zurga/Getty Images) /
(Photo by Jamie Squire/Getty Images) /
The KC Royals are 8-11 with 41 games left to play in 2020. Does their remaining schedule favor a run at the postseason?
When the game ends and the lights go out at Target Field Friday night, the KC Royals will be 9-11 or 8-12. Whether they beat, or are beaten by, Minnesota, one-third of Kansas City's season will be in the books with 40 games remaining. What might that mean for a still rebuilding club playing in an unusual season where anything can, and probably will, happen?
First and foremost, of course, is the postseason question–can these Royals, an intriguing mix of veterans, middle-of-the-roaders, and rookies, make a serious run at October baseball? In a normal campaign not shortened by a pandemic, the answer would probably be "No." But the unique set of circumstances affecting this season make it a "Maybe."
Schedule specifics aside for the moment, 2020's expanded playoff system gives this club a better chance than a normal season would afford. Under the new format, six more teams (three in each league) will qualify for the postseason this year–instead of the three division winners and two Wild Card clubs making it from both leagues, this season's playoff field will consist of those clubs and the second-place teams in each division.
Heading into tonight's game in Minnesota, the KC Royals were 8-11 after evenly splitting their last 10 games; they were in last place in the American League Central, four games behind the first place Twins, 2.5 games behind second place Detroit, and just three games behind in the Wild Card race. The simple fact they're only three games out of a playoff spot with 41 left to play gives the club and its fans at least mathematical hope.
The bottom line, of course, is that the Royals have to win, and win frequently, to have a realistic shot to play past the scheduled Sept. 27 end to the regular season. Can they? That, as they say, depends…