KC Royals: Does remaining schedule help or hurt?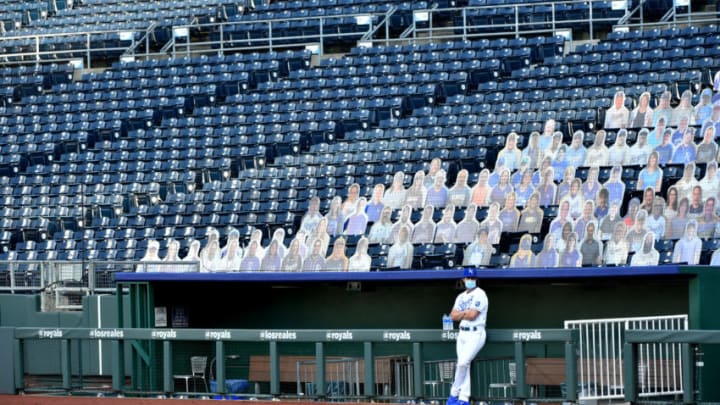 (Photo by Ed Zurga/Getty Images) /
(Photo by Ed Zurga/Getty Images) /
The KC Royals recently swept the AL Central-leading Twins. To contend, they'll need that kind of effort against the rest of the division.
Fairly or unfairly, many consider the AL Central, where the Royals primarily compete, as the weakest of baseball's six divisions. Whether that reputation is deserved or not isn't the point here; what's most important to Kansas City's 2020 hopes is how the division sets up now, because the Royals face their AL Central rivals in 27 of the remaining 41 games.
Surprising isn't too strong a word for the Central's overall success this season. At 41-32, it stands alone as the only MLB subset having just one team with a losing record. The Royals' are 8-11; heading into tonight's games the Twins are 12-7, surprising Detroit is 9-7, and the White Sox and Indians are 10-9.
Kansas City has now played the entire division with a so-so 6-7 record, but is 3-0 against the front-running Twins after sweeping a weekend series against them at The K. The Royals are 2-2 against the Tigers, 1-2 against Cleveland and 0-3 against Chicago.
After the current Target Field series, which ends Monday and is the Royals' last trip to Minnesota this season, KC plays the Twins three times at home, the Sox three times in Chicago and four in Kansas City, the Indians four times in Cleveland and three at Kauffman Stadium, and the Tigers twice at Comerica Park and four times–a season-ending series–in KC.
Fortunately, the club is done with the Twins a week from Sunday, which presumably makes the back end of the slate easier. They'll have to continue to play well against the Twins, improve vastly against Chicago, keep pace with Cleveland and finish strong against the Tigers.