KC Royals Rewind: The worst club in franchise history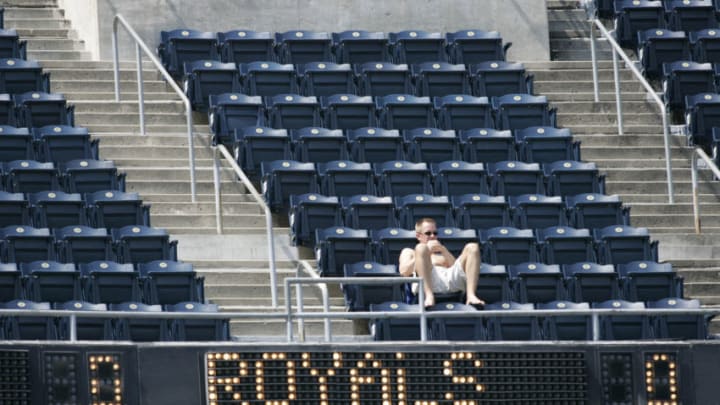 (Photo by G. N. Lowrance/Getty Images) /
(Photo by Jed Jacobsohn/Getty Images) /
Tony Pena and Buddy Bell had the misfortune to manage a KC Royals team that the numbers prove was bad.
It took the KC Royals almost three weeks to find and hire Tony Pena's successor after he resigned, a fact owing perhaps to the team's unenviable status as the worst in baseball. They were 8-25 when Pena stepped away and 13-37 when Buddy Bell took over May 30 after leaving his comfortable spot as bench coach of the Cleveland Indians, who were then just a game under .500 and arguably still in contention in the AL Central.
Bell, a two-time big league manager and accomplished former major league player, inherited a team going nowhere–20 games out of first just two months into the campaign, the club's season was already lost. And it got worse–the Royals finished 43 games behind division winner Chicago.
The proof of their ineptitude is in the numbers.
The Royals won 56 games and lost 106, a winning percentage of .346. That record made them the worst team in the majors with 11 more losses than the Pirates. They gave up 234 more runs than they scored.
October was the best month of the season, but it wasn't much to brag about–KC went 1-1 for a .500 percentage. The best full month was June at 12-14, one of only three months the club hit double-digit win totals (12 each time). The Royals won six games in April, eight in May and five in August.
The club lost a franchise record 19 games in a row at one point and was shutout 10 times.
Improvement didn't come with time: splitting the season at the traditional halfway point marked by the All-Star Game, the Royals were 30-57 in the first half but 26-49 in the second. They beat only one team at least nine times, a small accomplishment further diminished by the fact their victim was Detroit, the second worst team in the division.
The numbers told part of the story.