KC Royals Rewind: The worst club in franchise history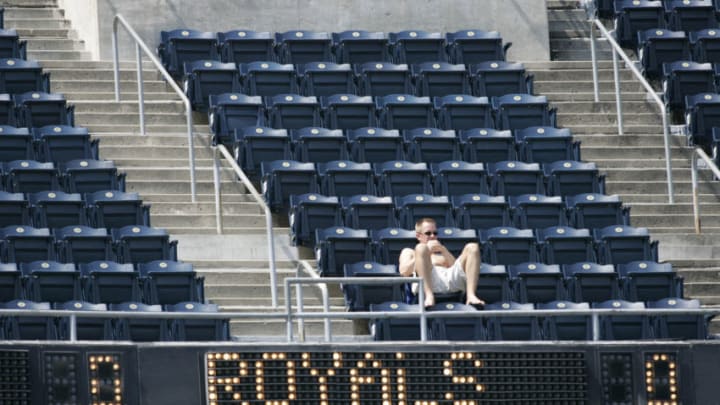 (Photo by G. N. Lowrance/Getty Images) /
KC Royals, /
The KC Royals didn't have a powerful offense in 2005. The defense left much to be desired.
Offensive and defensive inadequacies contributed heavily to the 106 losses the 2005 KC Royals suffered. "Inadequacies," though, may describe the maladies too generously –the club was near the major league bottom in too many critical categories.
Rarely known for team power, the Royals home run output was still dismal–they hit only 126 (exactly a sixth of them provided by Mike Sweeney) to rank 29th among the 30 big league teams. Their .320 on-base percentage and 87 wRC+ were better than only two teams and their .396 slugging percentage ranked 24th. (The "bright" spot was a 16th best .263 average).
The Royals, usually a speedy team, finished 27th in stolen bases, perhaps a statistic owing more to a collective inability to get on base than a lack of speed–stolen bases require, of course, having baserunners.
This isn't to say the club didn't have serviceable hitters, at least for average. It did. Six of the nine regulars, led by Sweeney's .300, hit .270 or better, including outfielders David DeJesus (.293), Emil Brown (.286) and Terrence Long (.279). But their failure to draw walks–the Royals were 27th in the majors–drastically reduced their steal opportunities.
Brown led the club in RBIs with 86, but only designated hitter Butler among the other regulars eclipsed 80; first baseman Matt Stairs was next with 66 and no other Royal had more than 56. Kansas City's 701 runs trailed 20 other teams.
Defensively, the 2005 Royals simply didn't measure up to Kansas City standards. The team committed more errors than any team in baseball; FanGraphs rates the defense as next-to-last in the majors.
The stats bear out that rating. While fielding percentage isn't the most precise measure of defensive aptitude, it's sufficient here to gauge the general quality of the club's glove work. The Royals fielded .979 as a team, enough evidence to say the team was uncharacteristically porous. The left side of the infield was especially suspect: rookie third baseman Mark Teahen posted .947, shortstop Angel Berroa .965 and second baseman Ruben Gotay .980. (First baseman Stairs held up his end with .993). In the outfield, Brown struggled at .958.
And then there was the pitching.