15 years of KC Royals franchise futility: 1996-2010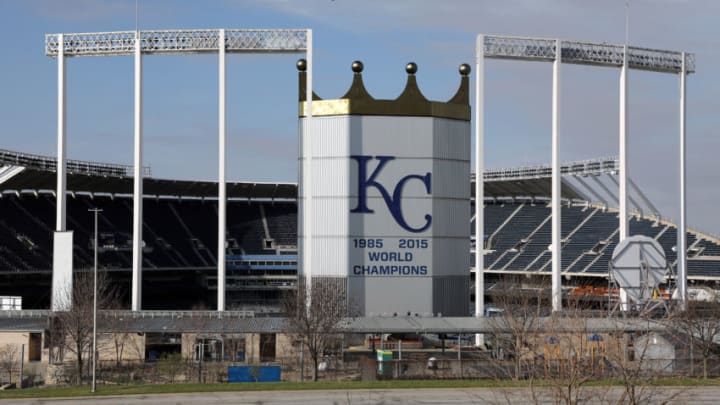 KC Royals (Photo by Jamie Squire/2020 Getty Images) /
(Photo by Michael Ivins/Boston Red Sox) /
While the Royals were going through five skippers during the time period, only two people were at the helm as general manager.
Taking over for John Schuerholz in 1990, Robinson worked to keep the Royals competitive and in 1994 he had a high payroll to work with allowing the team nearly win the division. Topps named the franchise the Organization of the Year. After the 1995 season, the payroll cuts began to sink in, and stars Gary Gaetti, Greg Gagne, Wally Joyner, and Tom Gordon were no longer on the team.
Veterans like Tim Belcher, Jose Offerman, Dean Palmer, Bell, and King were brought in and despite decent performances, the team never gelled to produce a winning record.  A real sore spot was during the drafts.  Out of the first-round picks in the '90s, only two players saw significant playing time with the KC Royals.
Dan Reichert and Michael Tucker were the best of this lot but not all-stars. Other picks Joe Vitiello, Jeff Granger, Matt Smith, Juan LeBron, Dee Brown, and Jeff Austin never panned out.  After the 2000 season, Robinson stepped down from the GM role.
In came Allard Baird.  Hamstrung by the tight payroll which makes every move critical, Baird pulled off a couple of trades that drew the ire of fans.
https://twitter.com/jazayerli/status/783483544563650560
The Royals could obviously not afford Beltran but the return on the sought-after player was not great.  Mark Teahan and John Buck put in some serviceable years with the team but nothing spectacular.  Another player in the deal, Mike Wood, was downright bad.
Johnny Damon was flipped for Roberto Hernandez, AJ Hinch, and Angel Berroa.  Hernandez and Hinch stayed around for a couple of years with ho-hum results.  Berroa was the cornerstone of the deal and it appeared to pay off with his Rookie Of The Year season in 2003.  His production fell the next three years and was soon off the roster though.
Another deal brought the bad marriage of Neifi Perez and the Royals in exchange for Dye.  Perez brought lackadaisical effort and zero passion to the club. Glass became frustrated with the team's performance in 2006 and soon Baird was let go. It is worth noting that Baird is still active in baseball in front office roles and his respected by many in the game.
Not long after the era of Dayton Moore began.  While many are still unsure about the legacy of Moore, he did rebuild the minors and developed young stars.  His hiring of Ned Yost was widely panned by Royals' fans but eventually, two consecutive trips to the World Series followed.
The water is still muddy on where the blame rests on the long drought of competitive KC Royals teams between 1996-2010.  Obviously having a minimal payroll was a big part of it.  Gametime decisions and player personal choices also contributed as well.  The hope is we are not at the beginning of another long slide.