15 years of KC Royals franchise futility: 1996-2010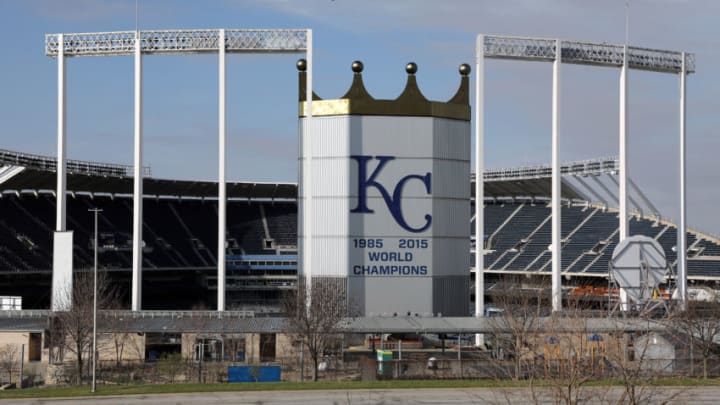 KC Royals (Photo by Jamie Squire/2020 Getty Images) /
KC Royals, /
It is tough to pin a majority of the blame on general managers and managers with reduced payrolls, but they certainly contributed to the mess.
After Hal McRae led the KC Royals to a stirring rally in 1994 prior to the strike he was let go by Herk Robinson.  An interesting choice since the team had a winning overall and was a Royals legend.
That brought Bob Boone into the fold and his stint was off to an ominous start from his first game, removing Appier from a game in which in had a no-hitter in process.  Despite firepower from players like Jeff King, Jay Bell, and Chili Davis, the team did not respond in the standings, and Boone was replaced mid-1997 by Tony Muser.
The Royals were the first and last major league team Muser managed.  His struggles in one-run games are well documented.  Handling players seemed to be a bigger issue.  Even if there was no ill intent meant, his comment about players not being tough enough seemed like a shot at stars Mike Sweeney and Joe Randa and was poorly received.
""Chewing on cookies and drinking milk and praying is not going to get it done," Muser said after his 2001 team fell to 10-18. "It's going to take a lot of hard work, and it's a mindset. I'd like them to go out and pound tequila [rather] than have cookies and milk because nobody is going to get us out of this but us." – espn.com"
Needless to say, losing the support of players and a 317-431 record led to Muser's release.  Eventually, Tony Pena was brought on board and in his first full season that what seemed magical 2003 occurred and Pena was named AL Manager of the Year.  Unfortunately, a 100 loss season followed the next year.
After beginning 2005 with an 8-25 record, Pena resigned as skipper.  Next up was a manager who produced a .399 and .465 winning percentages as the leader of the Detroit Tigers and Colorado Rockies. Buddy Bell was introduced as manager of the Royals in mid-season.  He duplicated his Tigers record with the Royals and was gone following the 2007 season.
We end this sad chapter in Royals history with another manager whose only big-league leadership would occur in Kansas City.  Trey Hillman was chosen in 2008 and the first year was not as terrible as it had been with a 75-87 record.  The next season though saw a ten-game decline and after a 12-23 start in 2010, Dayton Moore was forced to let him go.
Hillman had the respect of the players and front office and appeared to be a generally nice guy.  However, he could not rally the troops and was often critiqued on his bullpen usage.  It was tough for Moore as Hillman had been his first managerial hire.