Royals: Through the years, plenty of reasons to be thankful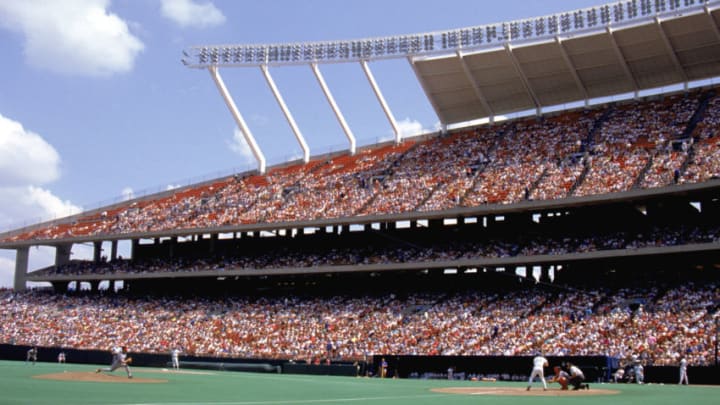 (Photo by Jonathan Daniel/Getty Images) /
(Photo by Jonathan Daniel/Getty Images) /
There was never a time when the Kansas City Royals were not a part of my life. And, for that, I will be forever grateful.
I have been raised on Royals baseball since birth. It was not like I ever had a choice, my baptism into Royals baseball occurred in the crib. Cheering for and arguing about the Royals with my father and my uncles are some of my earliest memories. I was also fed Chiefs football and Jayhawks basketball along with my baby bottles, but Royals baseball always felt just a little different.
I have invested more in the Royals. More time, more emotions. So I expect more from them than I do my other teams. With them, the connection is deeper, more personal. Royals baseball is a connection to family, to home. And, maybe because of that, I am more critical.
The picture in the tweet below is of me attending my first Royals game. The year was 1979. I was 2 years old. My father is taking a picture of me on my mother's lap. I wish there was anything today that made me feel as excited as a Royals game did when I was that chunky toddler. Even back then, apparently, I was embarrassing myself by screaming at things no one else in the crowd noticed.
Being a Royals fan, for me, has always been more than cheering for a team. I have been in a committed relationship with them my entire life. It hurt me when they were a punchline and I felt a weight being lifted when they finally achieved redemption. It was a redemption of my own, in some ways.
Memories of the biggest wins in Royals history stay with me. Always there, in the back of my mind, like old friends that I rarely see but never forget. And the reminders of the epic losses still hold a familiar sting.
I can remember sitting right next to my father on the couch on Saturday afternoons, even when we were not on the best of terms, watching This Week in Baseball together. We were just hoping to catch a glimpse of a Willie Wilson highlight. And, if they failed to show one, we blamed Mel Allen for the slight.
Way back in the 1980s you could not always count on a Royals game to be on television. Heck, it was a treat when it happened. But you could always count on the radio broadcast being played during the game. Denny Matthews was the soundtrack of my boyhood summers.
Entering Royals Stadium back in those days, back before it was the K back before the seats were all blue, brought up smells of concrete and water fountains and more concrete and pure exhilaration. That memory remains fresh to me. It was better than entering Worlds of Fun, as anxious as bedtime on Christmas Eve. The most thrilling team in the world played there and I got to feel like I was a small part of it.
My chosen career has moved me all over the country. But keeping up with the Royals, no matter how much they lost, was never a consideration. As an adult I left the religion that I was raised on, but it never even entered my mind that cheering for another baseball team was an option. And, even though it may not always seem like it, I am thankful for all that the Royals have given me.