Royals: Through the years, plenty of reasons to be thankful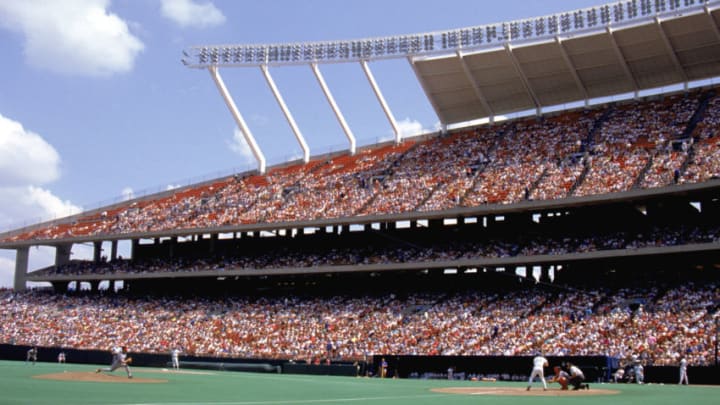 (Photo by Jonathan Daniel/Getty Images) /
(Photo by: Rick Stewart/Getty Images) /
One of the reasons for which I am most thankful to the Royals is having such a wonderful team to follow during my childhood.
In the 1980s, the Kansas City Royals finished above .500 seven times. They finished with 90 wins or more 4 different times. They never lost 90 games in a single season. Never. They made the playoffs four times and played in the World Series twice.
But, the winning percentage of the 1980s does not begin to represent just how amazing those Royals teams were. They were cool. Yes, they won a lot of games. But, most importantly to young fans like me, they looked badass while they were doing it.
Did Willie Aikens struggle to field even a routine groundball at first base? Sure. But he also had the sweetest facial hair and he crushed baseballs. Frank White played his usually overlooked position so well that kids in the Kansas City area preferred playing second base over shortstop. George Brett spent the 1980s competing for MVP awards almost every season.
U.L. Washington was our shortstop. It is possible I dreamed this, but I swear U.L. played baseball with a toothpick in his mouth, like Stallone in the movie Cobra. And I know this for sure, U.L. was not short for anything. His actual name was U.L. That is a stratosphere of cool I can barely even comprehend.
The Kansas City Royals of the 1980s were so damn righteous they replaced the baddest centerfielder in baseball, Amos Otis, with the smoothest centerfielder in baseball, Willie Wilson. There was a time in the 1980s when you could look in the Royals outfield and see Bo Jackson, Willie Wilson, and Danny Tartabull.
I once watched Bo Jackson hit a homer to straightaway center and then later in the same game, after a strikeout, snap the bat over his knee like it was a toothpick on his way back to the dugout. I still cannot decide which image was more amazing. Some civilizations grow up with stories of myths and magic to entertain them. But, in my boyhood, the legends were real and the magic was on display all summer in Royals stadium.
Our designated hitter, Hal McRae, would define the new position for baseball. And, if that was not enough, he also wiped out so many second basemen while breaking up double plays that they changed the rules to protect future second basemen and named the rule change after him.
Our pitchers were guys like Bud Black, Bret Saberhagen, Mark Gubicza, Charlie Leibrandt, and Dennis Leonard. We had one of the first great closers in Dan Quisenberry. And, if those guys were not cool enough for you, we also brought in Vida Blue and Gaylord Perry at the ends of their careers.
Growing up as a Royals fan in the 1980s was a privilege. Those teams made it easy to love baseball. Every game, every at-bat, was a reason for excitement. And each year brought hope. And, the young kid still inside me is forever grateful to them. All of them.