Kansas City Royals: Top 5 Outfielders in Royals History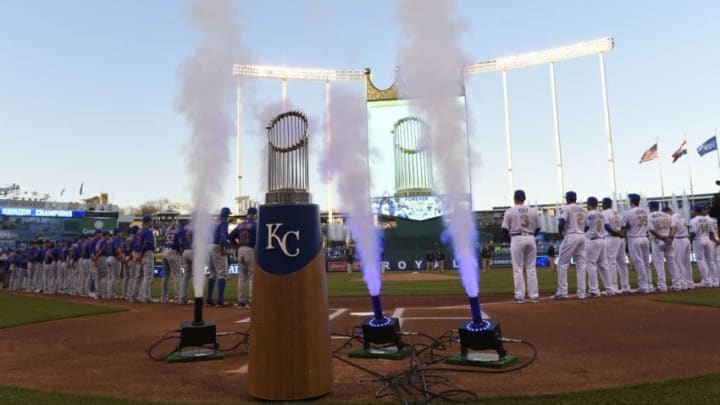 (Photo by Ed Zurga/Getty Images) /
MILWAUKEE – 1990: Willie Wilson #6 of the Kansas City Royals stands ready at the plate during a game against the Milwaukee Brewers in 1990 at Milwaukee County Stadium in Milwaukee, Wisconsin. (Photo by Jonathan Daniel/Getty Images) /
2. Willie Wilson (1976-1990)  2x All-Star, Gold Glove Award, 2x Silver Slugger, 1980 AL Batting Champion,  1979 AL Stolen Base Leader, 1985 World Series Winner, Kansas City Royals Hall of Fame
Runner-Up in our top 5 list is Willie Wilson.
Willie Wilson was drafted by the Kansas City Royals with the 18th pick of the 1974 MLB Draft and quickly began to make a name for himself. His baserunning was opening eyes down in the minor leagues, and he didn't have to wait long to be called up to Triple-A and the Major Leagues. Don't get me wrong, speed wasn't the only aspect he excelled in.
Wilson was called up in 1978 but didn't become the Royals starting Left Fielder until the 1979 season. In 1979, he slashed .315/.351/.420 and led the AL that season in singles with 143 and an unreal 83 stolen bases, blowing his competition out of the water.
The 1980 season proved that Wilson was for real, as he led the league in hits, runs, triples, and singles, and finished second in stolen bases. He also won a Gold Glove and his first of two Silver Sluggers, and finished 4th in the MVP race.
In 1982, he was selected as an All-Star for the first time in his career and had a career-high .332 batting average, slashing .332/.365/.431, winning his second Silver Slugger Award. The following season, he would have his worst year at the plate yet, but still was selected to the All-Star roster.
After some off-field issues, Willie was still playing good ball, but he couldn't keep his streaks of greatness that he had early on in his career. He remained a huge success in the Royals run for a World Series title, .367 against the Cardinals in the World Series and led the league for the third time in triples with a career-high 21 during the 1985 regular season. Regardless, Willie Wilson will go down as one of the best outfielders in Royals history, and certainly an excellent draft pick that helped the Royals his entire career.
Rankings in the Royals Top 25 Positional Players:
1st: Stolen Bases
2nd: Singles, Triples
3rd: WAR, Offensive WAR, Runs
4th: ABs, Hits
5th: Defensive WAR, Games Played, Plate Appearances, Total Bases
8th: Doubles
11th: Batting Average (tied with Lorenzo Cain, David DeJesus) Walks (tied with Eric Hosmer)
12th: RBIs