Kansas City Royals: Top 5 Outfielders in Royals History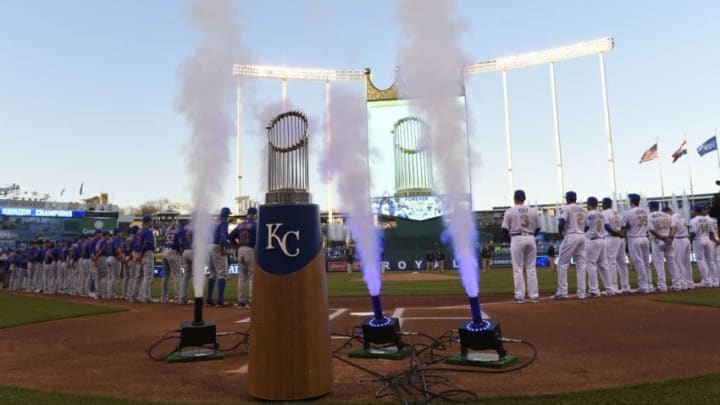 (Photo by Ed Zurga/Getty Images) /
Hal McRae, Manager for the Kansas City Royals during the Major League Baseball American League West game against the California Angels on 2 July 1991 at Anaheim Stadium, Anaheim, California, United States. The Angels won the game 10 – 3. (Photo by Otto Greule Jr/Allsport/Getty Images) /
3. Hal McRae (1973-1987) 3x All-Star, 1985 World Series Champion, Silver Slugger, Kansas City Royals Hall of Fame
Ranking third in the top 5, we have the ex-skipper and old-school tough guy Hal McRae.
Hal McRae was drafted by the Cinncinati Reds in the 6th round of the 1965 MLB Draft and played with the Reds until he was traded to the Royals during the off-season in 1972. McRae is one of the longest-tenured players in Royals history, playing 14 seasons with Kansas City.
While he was under contract in Cincy, McRae was playing in Puerto Rico when he suffered a multiple leg fracture, which led to concern about his career. McRae had lost his speed and some of his athleticism in the blink of an eye and was no longer considered a special outfielder. He overcame adversity and slowly but surely made his comeback.
When Hal was traded to Kansas City, he struggled at the plate in his first year, but in 1974 he started to feel himself, slashing .310/.375/.475 with a very successful .850 OPS.
He gained attention in 1975 and 1976, as he was selected as an All-Star for the first time in his career and slashed .306/.366/.442. In the 1976 season, McRae had an amazing year and was once again voted in as an All-Star, finishing the season slashing .332/.407/.868. Hal also finished 4th in the MVP race that season.
Not only was Hal mashing the ball at the plate, but his aggressiveness on the basepaths was shocking as well, considering he had suffered a traumatic injury earlier in his career. Hal's approach to this that he would share with his teammates would be to take nothing for granted. He was so aggressive, in fact, that the "Hal McRae Rule" was invented, forcing the runner to slide into second base in order to break up a double-play ball. In short, middle infielders had nightmares of Hal McRae, not the boogeyman.
As his career progressed, Hal had to change his ways and become a designated hitter. Even in his late thirties and early forties, he was still making a name for himself at the plate. At the age of 36 in 1982, McRae was selected to his third All-Star game, finished fourth in the MVP race, and won his first Silver Slugger Award, slashing .308/.369/.542. Not bad for an old timer, eh?
Hal finished his career with the Royals with a slash of .293/.356/.458 with 169 HRs, 1012 RBI, 105 stolen bases and an .814 OPS. After his playing career, Hal was named the Kansas City Royals manager from 1991-1994. He had a 286-277 record as a manager with the Royals.
Rankings in the Royals Top 25 Positional Players:
2nd: Doubles, RBI
3rd: Walks
4th: Offensive WAR, Triples, Games Played, Plate Appearances, Total Bases
5th: ABs, Runs, Hits, Home Runs
6th: WAR, Batting Average
9th: OPS
10th: SLG
13th: OBP
14th: Stolen Bases