Kansas City Royals: Top 5 Outfielders in Royals History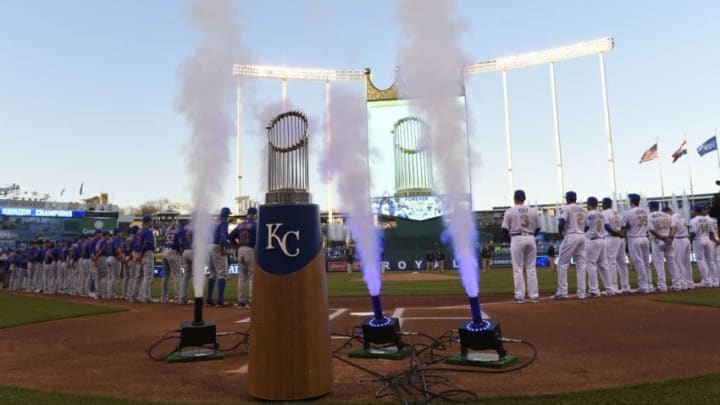 (Photo by Ed Zurga/Getty Images) /
KANSAS CITY, MO – OCTOBER 27: Alex Gordon #4 of the Kansas City Royals reacts as he runs the bases after hitting a solo home run in the ninth inning against the New York Mets during Game One of the 2015 World Series at Kauffman Stadium on October 27, 2015 in Kansas City, Missouri. (Photo by Christian Petersen/Getty Images) /
4. Alex Gordon (2007-Present) 3x All-Star, 5x Gold Glove, Platinum Glove Award, 2015 World Series Champion
Next on the list, another fan favorite: Alex Gordon.
The Lincoln, Nebraska native Alex Gordon was drafted by the Kansas City Royals with the second overall pick in the 2005 MLB Draft and has been with us ever since.
Interestingly enough, Gordon was primarily a third baseman in the Royals Organization, but they moved him into left field in the 2010 season, replacing David DeJesus: another top outfielder in Royals history, but not quite making this list.
At one point there was a concern over Alex's future with the Royals. His streaky hitting and ironically horrendous fielding at the hot corner didn't help his case whatsoever, finishing with the worst fielding percentage and most errors of all American League third basemen in 2008. Thankfully, the Royals stuck to their gut feeling.
Getting accustomed to the outfield, 2011 was a much better year for Gordon's career, leading all of the MLB outfielders in assists with 20 and 2nd in the Major Leagues in doubles along with teammate Jeff Francoeur. In 2011, he would also win his first of five (so far) Gold Gloves.
In 2012 he found immense success and really started to make a name for himself, as he finished the season batting .294 and led the major leagues with 51 doubles and was statistically the best fielding Left Fielder in the majors, winning his second Gold Glove.
In 2013, his average dipped to .265, but was also named an All-Star and won his third consecutive Gold Glove in Left Field.
2014 was another year of success with the glove, as he would win yet another Gold Glove and Platinum Glove, secure his second All-Star selection, and also broke Wade Boggs' record for most home runs from any Major Leaguer from Nebraska. However, he struggled mightily in the postseason, and dare I bring up the fact he was the game-tying run in game seven (should we have sent him?).
All that needs to be said about his 2015 season: "Gordon in the air to center. Back at the wall… this game is tied!"
Since Gordon's extension, not much has been worth noting, other than his fifth Gold Glove in 2017, but we will never forget all that Alex has done for our franchise. The clutch defensive juggernaut will never be forgotten.
Rankings in the Royals Top 25 Positional Players:
4th: WAR, HRs, BBs
5th: Doubles
6th: Offensive/Defensive WAR, Games Played, ABs, PAs, Runs, Hits, Total Bases, RBI
13th: Stolen Bases
16th: Triples
24th: OBP