Kansas City Royals: Top 5 Outfielders in Royals History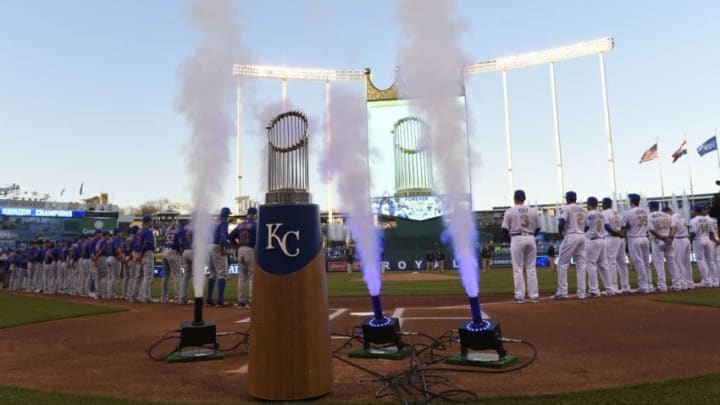 (Photo by Ed Zurga/Getty Images) /
KANSAS CITY, MO – OCTOBER 15: Lorenzo Cain #6 and Jeremy Guthrie #11 of the Kansas City Royals of the Kansas City Royals celebrate after their 2 to 1 win over the Baltimore Orioles to sweep the series in Game Four of the American League Championship Series at Kauffman Stadium on October 15, 2014 in Kansas City, Missouri. (Photo by Jamie Squire/Getty Images) /
5.  Lorenzo Cain (2011-2017) 2x All Star, 2014 ALCS MVP, 2015 World Series Champion
To get us started on the list, we have the speedy and lovable Lolo Cain.
If someone ever asks you to sum up Lorenzo Cain, Joe Buck's call in game 6 of the 2015 ALCS vs. Toronto has got us covered: "HE CAN FLY!"
Cain, originally drafted by the Milwaukee Brewers in the 17th round of the 2004 MLB Draft, was traded to Kansas City in 2010 along with Alcides Escobar, Jeremy Jeffress, and Jake Odorizzi for Zack Greinke and Yuniesky Bentancourt (thanks, Zack!).
Cain's introduction into his baseball career was definitely different than most, as he didn't start playing the game until his sophomore year of high school. The only reason he even started playing is because he didn't make his school's basketball team. He had no idea how to swing, throw, or even had any equipment. To keep it simple, that just shows how much of an athlete Lorenzo Cain truly is. The sky is the limit, kids.
When he got into Kansas City, Cain was riddled with injuries and, shockingly enough, barely knew how to run. That's when he decided to train with Al Hobson, track coach at Kansas City Kansas Community College, and his life was forever changed.
Cain's breakout season was in 2014 when he slashed .301/.339/.412 with five home runs, four triples, 29 doubles, 28 stolen bags, 46 RBI, and 55 runs. He ranked eighth in the AL for his batting average and stolen bases. His damage at the plate and his spectacular glove during the postseason would help him go on to win the 2014 ALCS MVP.
In 2015 his success would continue, where he would slash .307/.361/.477 and finished third place in the AL MVP race, just behind Mike Trout and Josh Donaldson. Pretty good company, don't ya think?
Lorenzo Cain's path to baseball is a feel-good tale for everyone, and I couldn't be happier to see Lorenzo continue to be successful in Milwaukee. He will always have a special place in the heart's of Royals fans everywhere, and his hermano Salvy.
Rankings in the Royals Top 25 Positional Players:
4th: Defensive WAR
7th: WAR
11th: Batting Average (tied w/ David DeJesus and Willie Wilson)
16th: Offensive WAR
19th: Runs, OBP
21st: 2Bs
22nd: Hits, Total Bases, 3Bs
23rd: ABs, PA
24th: OPS
25th: Games