Kansas City Royals: Justin Grimm waived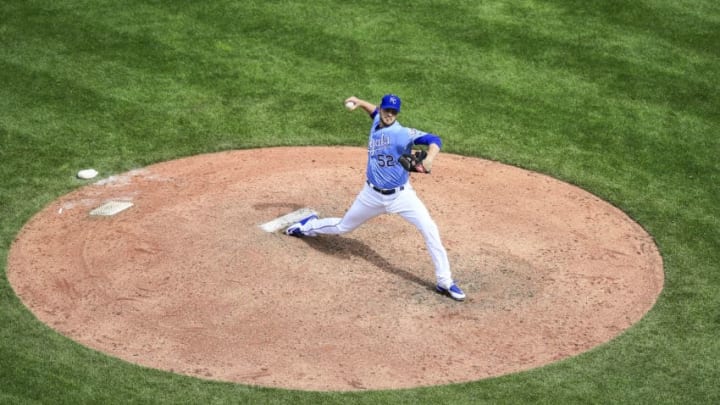 KANSAS CITY, MO - APRIL 11: Justin Grimm #52 of the Kansas City Royals pitches against the Seattle Mariners during the eighth inning at Kauffman Stadium on April 11, 2018 in Kansas City, Missouri. (Photo by Brian Davidson/Getty Images) /
An injury to Justin Grimm caused the plan to rebuild his trade value to go awry. Just over a week later, the Kansas City Royals chose to waive the 29 year old reliever.
Justin Grimm was thought to have the potential to be a trade piece for the Kansas City Royals. But, the righty who was signed as a free agent in March of 2018 was sidelined due to injury. Plus, his performance with the Royals was nothing to be excited about.
The news of the move was first reported by Maria Torres of the Kansas City Star, according to an article by MLB Trade Rumors. He may have been a trade piece, but it's hard to rebuild the trade value of a player while he is on the DL.
His Statistics
He appeared in 16 games for the Kansas City Royals. Sidelined twice by injuries, it's possible those health issues played a role in his statistics. He yielded a 1-3 record with an ERA of 13.50.
His first DL stint was caused by a back problem. On June 28, he was once again moved there with right shoulder impingement syndrome.
He allowed 17 hits in 12.2 innings of work in 2018. He also walked 14 batters. Again, the injuries may have played a role. But, if he isn't of any trade value to the Kansas City Royals, there is no point to keeping him in the organization.
His Contract
When he signed on as a free agent with the Royals, his contract was for $1.25 million. The Chicago Cubs, who released him at the beginning of the 2018 season, are paying $532,260 of that contract. It was only a one year deal.
If another team were to pick him up, they would pay the end of his contract. But, should he become a free agent, the Kansas City Royals would have to pay the remainder of his contract.
Why was he released?
There's no question as to why the Royals released him. He wasn't adding any value to the bullpen, and there are younger arms who deserve a chance.
Next: More International Signing News
The only reason the Kansas City Royals would have kept him around is if they could have yielded some younger players in a trade. But, with a grim outlook on that situation, this was the better move for the organization as a whole.