Kansas City Royals: Trying to rebuild Justin Grimm's trade value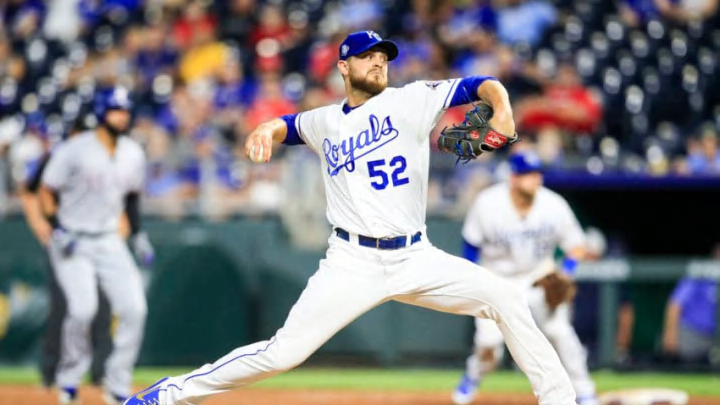 KANSAS CITY, MO - JUNE 18: Justin Grimm #52 of the Kansas City Royals pitches against the Texas Rangers during the ninth inning at Kauffman Stadium on June 18, 2018 in Kansas City, Missouri. (Photo by Brian Davidson/Getty Images) /
The Kansas City Royals seem to be trying to rebuild a broken trade piece. Since coming back, the Royals seem to have an agenda for reliever Justin Grimm.
When Justin Grimm signed with the Kansas City Royals, the original plan seemed clear. Similar to Jon Jay, the Royals signed Grimm to a cheap one-year deal in hopes to potentially trade him away in July.
However, not all plans come to fruition. After a very solid start to the season, Grimm fell onto some hard times.
Over his first five appearances this year he went 4.1 innings and had a 2.20 ERA. He had a 0.69 WHIP and opponents were hitting .143 against him. Unfortunately, the next five appearances were totally different. He only logged 2.2 innings and had a 65.45 ERA. Yes, you read that right.
Shortly after his last appearance, news broke that Grimm had been dealing with lower back stiffness and found himself on the DL. Whether you believe that or not, he ended up missing close to a month of baseball.
But things seem to be going back to normal since he returned. The Royals are using him as often as possible right now too, which leads me to believe something else is going on.
The Royals don't have a very deep bullpen right now, but the uptick in usage that Grimm has found himself in makes me think they are trying to rebuild his stock. After his horrible stretch, the value that Grimm had was next to nothing. Let's be honest, a 25.41 ERA over 7.0 innings and 10 appearances aren't enticing numbers to any contending team.
However, the Royals could be trying to show teams that the reason he struggled was due to his back, and now that his back is better he is back to what he was to start the season.
Since returning from the DL, Grimm has appeared in four games. Over those four games, he has gone 4.2 innings and only surrendered one run. This has brought his once horrific ERA down from 25.45 to a nicer 13.89 ERA. However, since returning his ERA has been a much improved 2.14 ERA.
If you remove his five awful appearances where his back stiffness reportedly started, Grimm has a 2.00 ERA over 9.0 innings.
His velocity is still there. Last night he was hitting 95mph and 96mph with his fastball. If he can keep his velocity up, keep up his recent trend over the last four games, and stay healthy, his value might start to jump back up.
Being 100% real with myself though, the idea of him bringing back a prospect that has been productive seems unlikely.
I will say though, any prospect in return for one of the one-year veteran contracts the Royals signed this offseason is worth the trade. I highly doubt that Grimm would bring back a teams Top-30 prospect. However, maybe a Double-A player who needs a new environment could be in play.
The Royals still have time to rebuild Grimm's stock. I think the Royals are going to use Grimm as often as possible to try and lower his numbers. They might not be as low as others, but if they can sell from his return to the time he's traded, they could get some value.
Next: Evaluating the Herrera trade
Grimm isn't a flashy name. How he is used is still up for debate as to how you can use him within a bullpen. He could be a 7th or 8th inning guy for some teams. But a team that is looking to contend but doesn't want to spend a lot of money on a rent-a-player might take kindly to a revitalized Grimm.
So what do you think Royals fans? Is Grimm's trade value completely gone? Can he rebuild it and get something for the Royals in July or August? Let us know below!