Kansas City Royals: Whit Merrifield presents an interesting dilemma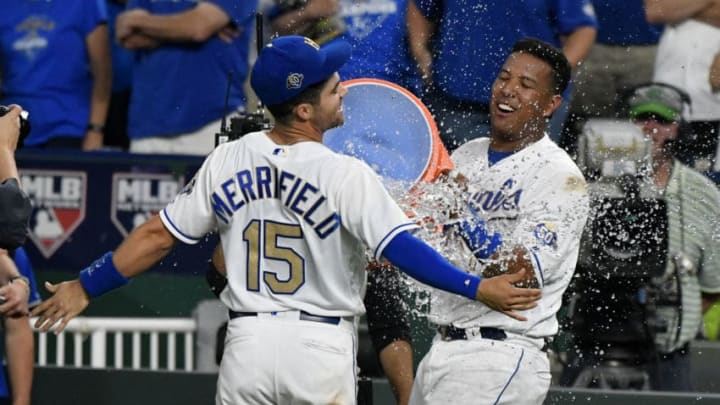 KANSAS CITY, MO - MAY 18: Whit Merrifield #15 of the Kansas City Royals is doused with water by Salvador Perez #13 as they celebrate a 5-2 won over the New York Yankees Kauffman Stadium on May 18, 2018 in Kansas City, Missouri. (Photo by Ed Zurga/Getty Images) /
As the trade deadline looms closer, names are going to start popping up. The Kansas City Royals are obviously sellers, so any player of value will hear his name in trade rumors.
This is something that is going to be hard for Kansas City Royals fans. When you look at a team that doesn't have a lot of quality players, trading guys that are quality just doesn't seem "fair". When looking at what Whit Merrifield brings to the Royals, it would seem illogical to trade him.
First off, his contract is perfect for the Royals. He won't be eligible for arbitration until 2020, which means he can't be a free agent until 2023. For a team that is rebuilding, having that cheap of a contract, over that period of time, for a productive player is hard to come by.
Next, he is the perfect defensive player for the Royals. He is the definition of a super utility player. This year alone, he has spent time at all three outfield positions, second base, first base, and as the designated hitter. If needed, he can also play third base. Meaning the only position he hasn't played in Royals gear is shortstop, catcher, and pitcher.
Then you add in his production at the plate. Since joining the big league roster in 2016, Merrifield is sporting a .283/.360/.406 with a .766 OPS over 300 games. He has also stolen 58 bases over his career, leading the American League in 2017 with 34 stolen bases. His career wRC+ is over 100, which means he is an above average hitter.
Lastly, he is a fan favorite because of how his hard work. When you watch him, he is someone that goes out every game and give 100% effort. He doesn't take an inning off, and he doesn't allow the mental side of the game to weigh him down. By doing this, he has quickly emerged as a team leader, and someone to easily root for.
Which brings the question up. Why would the Royals want to trade someone who has all of these intangibles? Wouldn't keeping him around be the logical thing to do?
All valid question. Unfortunately, he does have one thing working against him. Which honestly could be a reason why he is traded. Merrifield is currently 29-years-old. He was a "late bloomer" in the world of baseball. The reason this is something to look at is simple.
The next wave of young Royals players to make the jump is rumored to be in 2020-2021. That would mean that Merrifield will be 31-years-old when the Royals are hoping to be competitive again.
Yes, I am aware that the Royals have had players "that old" when they were contending for World Series. However, I don't think the Royals will be contending for a World Series in 2021. If I had to guess it would be closer to 2023-2024 if all goes right. Merrifield would be a free agent by that time.
Merrifield could help the Royals speed up the rebuilding process, but the catch is hard to swallow.
If the Royals were to trade Merrifield, they could get a solid return. Everything mentioned about why he is a huge asset to the Royals is exactly why other teams are most likely calling to see what his availability is. If the price is right, and the Royals are offered a haul they can't refuse, Merrifield might be sporting a different uniform by the end of the year.
I personally don't know if I want the Royals to make that trade. I think his contribution could be huge for the Royals future, especially as a veteran presence when the younger guys make the jump. However, if they made the trade I wouldn't blame them.
While keeping Merrifield around has its perks, and they are pretty big perks, trading him also has its perks. The Royals need to establish whether or not Merrifield is going to be put on the "off limits" list because he is a part of the future, or if he is up for negotiation. If they truly don't see him as a part of the future rebuild, holding onto him makes little sense.
Next: What to do with Danny Duffy's recent success
The Royals do have a hard choice to make this year as Merrifield's continued success seems to be increasing his value. Now it's a wait-and-see game to figure out what the Royals will do.
What do you think Royals fans? Should the Royals trade Merrifield? Should they hold onto him and use him as a veteran for the next wave? Let us know below!