Kansas City Royals History: 800,000 Attend 2015 Championship Parade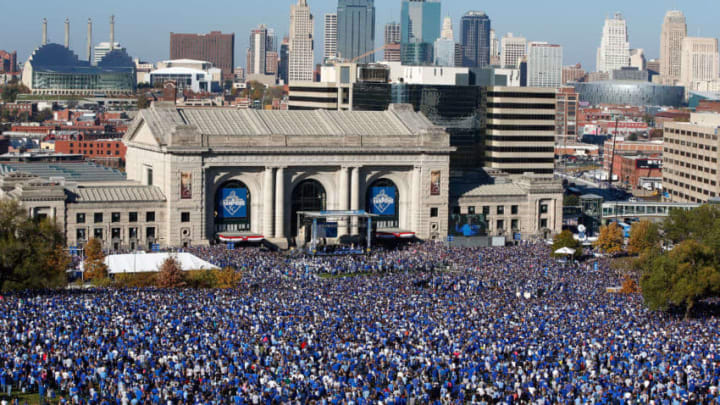 KANSAS CITY, MO - NOVEMBER 03: A general view of crowds gathered in front of Union Station as the Kansas City Royals players hold a rally and celebration following a parade in honor of their World Series win on November 3, 2015 in Kansas City, Missouri. (Photo by Jamie Squire/Getty Images) /
It's been two years since a massive number of people descended on Union Station. The crowd of Kansas City Royals fans came to celebrate the 2015 team's World Series victory.
On Nov. 1, 2015, the Kansas City Royals defeated the Mets in Game 5 of the World Series. It clinched the franchise a second world championship. Two days later, the team received a hero's welcome during their championship parade through Kansas City.
An estimated 800,000 fans mostly clad in blue packed the parade route, including about one-fourth of those in the area around Union Station for the post-parade celebration. It was a fitting cap to a remarkable season that saw the Kansas City Royals win their first World Series title since 1985.
It also led to this breathtaking Kansas City Star front page the next day:
The parade itself brought joy to plenty of fans. But the highlight of the day came at the Union Station event. With a large stage set up outside, the players and Ned Yost spoke to the members of the crowd to thank them for their support.
Memorable Moment
The most memorable moment came courtesy of Jonny Gomes. The seldom-used outfielder only featured in 12 regular season games and none in the playoffs, but he became an obvious locker room presence. He put that on display for the crowd with this fiery speech:
If that doesn't bring back memories, I don't know what will. The entire day seemed like something out of a dream — and not just because many fans thought this day would never come. For being November, the weather cooperated well enough to allow a group much greater than the combined populations of Kansas City, Missouri, and Kansas City, Kansas, to attend the celebration.
More from Kings of Kauffman
Despite occurring exactly two years ago, the moment is becoming a distant memory. With the organization in a current state of flux, another championship parade seems unlikely to happen in the near future. The 30-year gap between parades built up the anticipation, but I don't think any Kansas City Royals fans want to wait that long again.
Several players from that championship team are no longer with the club. A handful will possibly leave this winter as free agents. In fact, should none of the free agents re-sign, there will be just seven players on the current squad who made the World Series roster.
But enough depressing thoughts, this is the anniversary of a wonderful time in franchise history. This should be a time for reflection on that achievement. One that put a bow on a 2015 season that seemed destined to end this way.
Next: Best Moments of 2015 Postseason Run
Did you attend the parade? Let us know about your experience in the comments.