Seven Second-Half Questions for the Kansas City Royals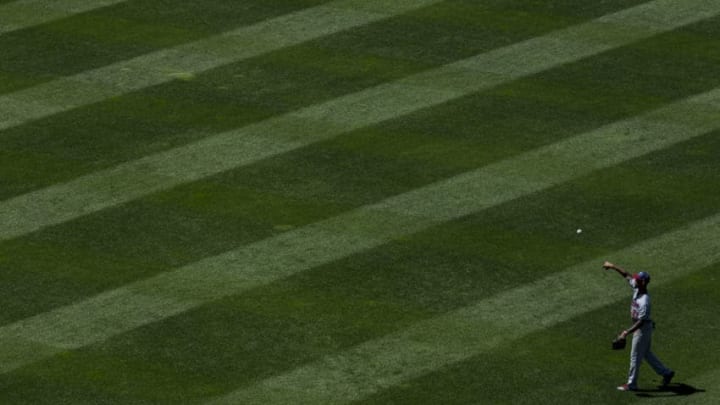 KANSAS CITY, MO - JULY 1: Byron Buxton #25 of the Minnesota Twins tosses a Kansas City Royals outfield hit back to the infield in the fifth inning during game one of a doubleheader at Kauffman Stadium on July 1, 2017 in Kansas City, Missouri. (Photo by Kyle Rivas/Getty Images) /
MIAMI, FL – JULY 10: Jason Vargas #51 of the Kansas City Royals and the American League speaks with the media during Gatorade All-Star Workout Day ahead of the 88th MLB All-Star Game at Marlins Park on July 10, 2017 in Miami, Florida. (Photo by Mike Ehrmann/Getty Images) /
Is this the Jason Vargas we can expect for the season's remainder?
An ERA a run lower than his previous best.
Two wins away from his career high (please cue the "Wins don't matter!").
First-time All-Star.
Jason Vargas, all six feet (please) of him, pitched what was unquestionably the best ball of his career since the start of April. He was a deserving All-Star and quite frankly, I'd rather he'd started the game than Chris Sale, who is widely considered something of a crazy person.
More from Kings of Kauffman
As Sam Mellinger detailed, no pitcher, at his age, has had a late-career breakout like this in literally decades.
Can he keep it going is another matter entirely.
Dr. Vargas' FIP (3.79), xFIP (4.77), K/9 (6.60) and plodding fastball (average speed: 85.8 mph) suggest that a few stompings are in order. But he's upped the use of his curveball (to 20.5 percent) and it's not like the opposing BABIP is curiously low (.276), plus he's yet to induced swings outside the zone at a rate commensurate with his career (29.7 percent).
Dr. Vargas' practice won't look like it did in the first half, but that doesn't mean bad. He'll regress, because he's not actually Sandy Koufax. How far will be the question.