KC Royals: Who plays left field if Andrew Benintendi leaves?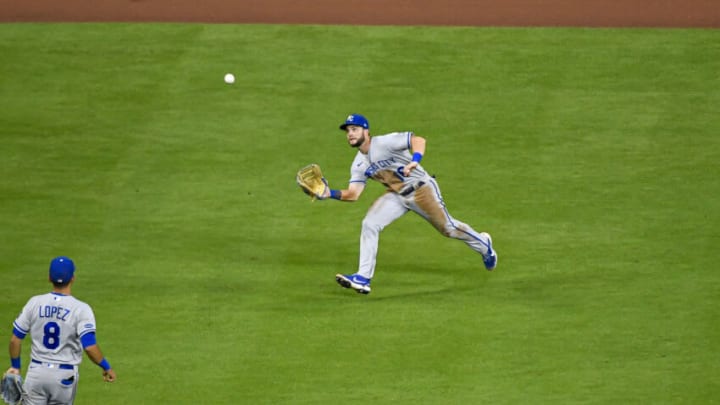 (Photo by Logan Riely/Getty Images) /
(Photo by Rob Leiter/MLB Photos via Getty Images) /
The KC Royals could again transform an infielder into a left fielder.
Alex Gordon came to the majors as a third baseman but quickly proved the hot corner wasn't for him; unwilling to lose out on his potential, the Royals turned him into a left fielder.
And they might do the same with Nick Pratto, their No. 2 prospect per MLB Pipeline who's spent most of his professional career at first base but is exploring the outfield at Triple-A Omaha. Because Kansas City needs to find a place for his bat, left field could be his ticket to the majors, just as it was for Gordon.
Pratto's outstanding 2021 minor league season (36 home runs, 98 RBIs and a .265/.385/.602 line) seemed to make him the odds-on favorite to replace Carlos Santana at first base. But that was before he embedded himself in a prolonged slump this season and Vinnie Pasquantino's hot hitting at Omaha propelled him to Kansas City ahead of Pratto.
Still, Pratto remains a player whose bat the Royals covet and need. Fortunately, he's improving—he hit his 16th homer of the year for Omaha Saturday and his 17th Sunday, and is slashing .278/.422/.611 this month.
Where to play him when he's finally deemed major league-ready is the question. First base comes immediately to mind, of course, but Pasquantino is less versatile than Pratto and more likely to stick at first and DH.
Pratto has played in the outfield 20 times for the Storm Chasers this season—12 in left and eight in right, suggesting the Royals clearly want him in their lineup, even if it's in left. Don't be surprised if they try him there if Benintendi moves on.