KC Royals: Minor leaguers are hard at it in Arizona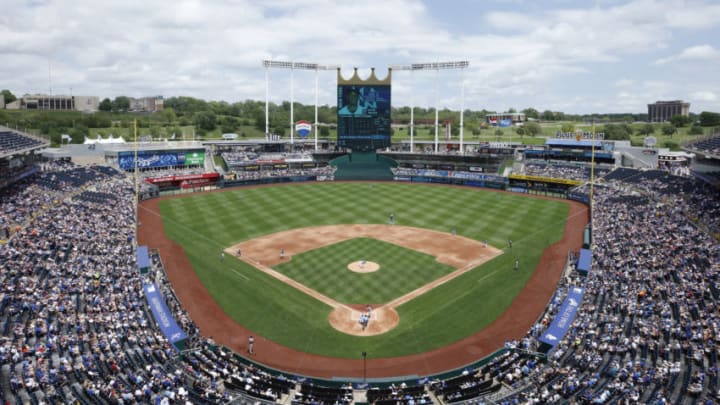 (Photo by Joe Robbins/Getty Images) /
While the ongoing lockout means 40-man roster players are still not with the team, many minor league players for the KC Royals are in spring training and gearing up for their season.
The cracks of the bats and the sound of balls hitting gloves is well underway in Surprise, Arizona, the Kansas City organization's spring training headquarters. While the major league players still aren't in camp, this is a very important time for many of the franchise's players. They'll be in more of a spotlight than usual.
And, courtesy of the club, many of those players are enjoying sparkling new spring housing at The Fountains—kudos to the organization for providing such quality housing to its prospects. It's free to unmarried players and those who have not served time in Double-A ball or higher; for many, that's a huge relief when living on a small budget.
Forming bonds on and off the field can translate to great chemistry during the year. If you're not convinced of that, just remember that the great mid-2010s Royals teams were loaded with players who came up through the KC system together.
The big spring storyline for the KC Royals is top prospect Bobby Witt Jr.
One big story to watch this spring is can't miss Royals prospect Bobby Witt Jr. It is possible that with a solid spring he could begin the season with the big league club if its start isn't pushed back too far. If the lockout goes past the start of the minor league season, he'll get more reps at Triple-A.
Where Witt will play when he is called up is still a toss-up at this point. Kansas City will have a tough time deciding where players like Whit Merrifield, Nicky Lopez and Adalberto Mondesi play, and Witt should make those decisions even harder.
While spring training isn't the same without the 40-man roster players, there are plenty of important practices and scrimmages going down in Arizona right now where some soon-to-be Royals are grinding away to reach the next level.