KC Royals News: Ending lockout may be harder now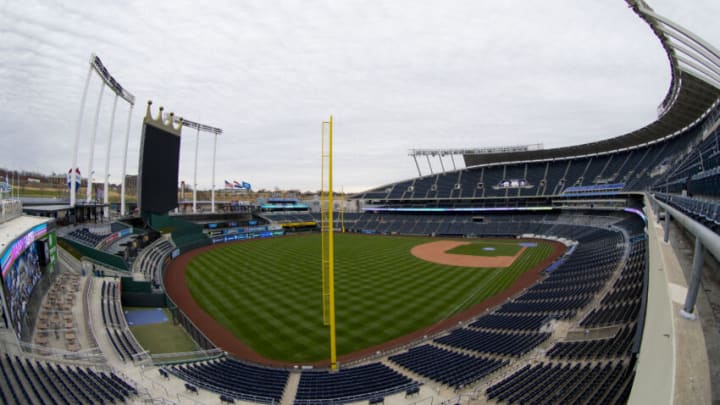 (Photo by Brian Davidson/Getty Images) /
Checking in on some KC Royals news items while wondering if Bud Selig and Don Fehr would have reached a deal a long time ago.
No, the MLB lockout still hasn't ended. The optimism of late Monday night and early Tuesday morning disappeared with the last known offer between the owners and players, a proposal the clubs made that carried no hope of acceptance and which the union summarily rejected.
A deal to end the parties' war over a new collective bargaining agreement seemed far away then. Chances of forging a new CBA anytime soon may now be worse.
The first sign of an even longer battle came Thursday with a report that four owners voted against a vital component of the club's last offer, opposing a first-year $220 million Competitive Balance Tax threshold, and that even more may join those four if anyone on their side wants to offer more than that amount.
That's a potential harbinger of bad things to come for negotiations that are bad enough already. Why? Because no deal can pass the owners' muster without 23 votes, making any further movement toward the union's position difficult at best and improbable, or impossible, at worst. The union last offered $238 million; the difference is painfully palpable.
Further complicating the already difficult process is the owners' stance that canceled regular season games won't be rescheduled and players won't be paid for the games they would have otherwise played. That won't sit well with players—they're only paid during the regular season and they'll consider as grossly unfair losing pay for games the owners wouldn't let them play. The longer they're locked out, the more they lose, and they may not settle until the clubs agree to compensate them, or give them something just as valuable in return.
So, an already long lockout may get longer.
The KC Royals lose 10 more spring exhibition games to the MLB lockout.
Then there's Friday evening's news, delivered via a short statement on Major League Baseball's website, that more spring training games have been wiped off the slate. MLB had canceled exhibition contests twice previously; now, no such games will be played before at least March 18, so the Royals have now lost 21 spring tilts from the original schedule. Only nine are left.
A former KC Royals reliever finds a new team for the 2022 campaign.
Kevin McCarthy, who pitched regularly out of the Kansas City bullpen for parts of five seasons but became a free agent after the 2020 campaign, has a new home.
McCarthy recently signed a minor league contract with the Chicago Cubs. McCarthy went 11-6 with a 3.80 ERA in 169 games for the Royals. He appeared only five times for KC in the pandemic-shortened 2020 season. Boston picked him up for 2021 and he was 1-2, 7.13 for its Triple-A affiliate when the Red Sox let him go in late August.
McCarthy caught on with the White Sox and was 0-0, 7.04 in seven games for their Triple-A club.
The KC Royals welcome minor leaguers to spring training and some new digs.
While the MLB lockout continues, spring camp is underway for Kansas City's minor leaguers who aren't on the major league club's 40-man roster. And many of those players in camp are enjoying new surroundings—as mlb.com Kansas City beat writer Anne Rogers reports, the club has opened The Fountains, a new residential complex for them and various staffers.
It's going to be awhile before the Royals play. And although their exhibition games continue to get canceled, minor league camp is open, and with it new housing for players.