KC Royals: Are 6 canceled games just the beginning?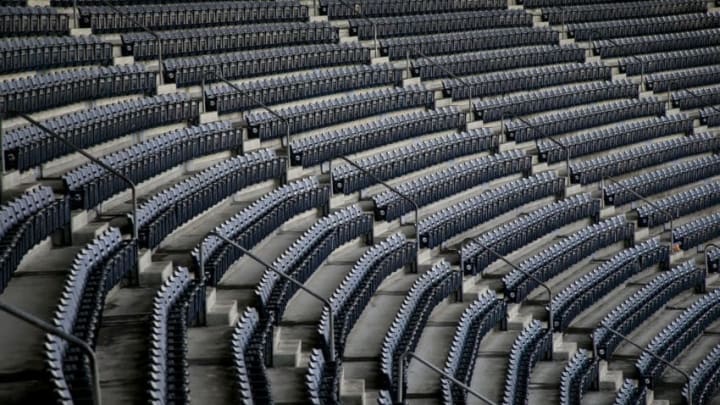 (Photo by Brian Davidson/Getty Images) /
The KC Royals won't be in Cleveland March 31 to help that club launch its new era as the Guardians. Nor will Kansas City open its home season against the White Sox April 4.
In fact, no one knows just when the Royals—or any other big league club, for that matter—will play again. MLB set that fact in stone late Tuesday afternoon when Commissioner Rob Manfred, the same man who strongly suggested less than a month ago that losing games to baseball's current labor war would be "a disastrous outcome," announced the owners' unilateral cancellation of the season's first two series.
The Royals will lose six games, three against the Guardians and three with Chicago. Barring more cancellations, they'll open by hosting the White Sox April 8.
But after Tuesday's developments, the number of wiped away games may rise.
KC Royals fans shouldn't have been surprised by Tuesday's cancellations.
Any claim the MLB lockout guaranteed loss of games is wrong. Exercising their ultimate economic weapon, the owners announced their lockout Dec. 2, well over two months before the scheduled start of spring training and in plenty of time for the parties to forge a new collective bargaining agreement.
But making deals takes two committed parties; the clubs cast considerable doubt on the level of their commitment when they took six weeks to make an offer to the union. Yes, the players could have made the first move, but locked out employees typically don't rush to the negotiating table.
What followed wasn't shocking, especially because the union and clubs haven't gotten along for years. Neither side budged much and each made incremental offers with little hope of moving any needles, strategies all too common and all too unsuccessful in such settings.
Then came MLB's recent and ominous deadline—make a deal by Feb. 28, the clubs told the union, or suffer the consequences of canceled games. It was no idle threat because players aren't paid until regular season games begin.
Whether the union took that ultimatum seriously or not is debatable, but the parties began meeting in apparent earnest last week and, as late Monday night became early Tuesday morning, social media exploded with reports of an imminent deal. Those who managed to stay awake until the marathon negotiating sessions stretched into their 17th hour around 2 a.m. ET went to sleep anticipating good news later—with a deal apparently in sight, the parties agreed to resume talks later Tuesday and MLB extended its deadline to 5 p.m. ET.
But reliance on positive speculation should have been tempered when reports like this from The Athletic's Evan Drellich came just when it seemed light was at the end of the tunnel:
Unfortunately, Tuesday's back-and-forth between labor and management extinguished whatever light might have been at the end of that tunnel. For whatever reason, things deteriorated: MLB made a late afternoon offer the union rejected and Manfred soon took to the podium to scuttle the first week of the season.
The result shouldn't surprise any Royals fan, not even after the late-night highs of Monday and early Tuesday. The rancor between the parties runs deep and they've remained too far apart on such key determinative issues as the Competitive Balance Tax, creating and funding levels of a special bonus pool for pre-arbitration players, and by how much to increase the players' minimum salary. And, whether you want to believe it or not, breaking this union is a result these owners probably wouldn't shed tears over.
Simply put, the owners obviously believe they can absorb large revenue losses, and that the players and their families will soon tire of missed paychecks; indeed, MLB reportedly told players it's willing to lose a month of games. But like many unions, the MLBPA has a significant reserve fund—in effect a "war chest"—to help players who don't make Max Scherzer-type money.
So it is that all heels are dug in on both sides. Expect the parties to resume talks within a few days, but don't be surprised if Manfred steps to a podium again, not to announce a deal, but instead to declare more games canceled.
Time will tell. At some point, the game will be back, and it will survive. But for the concessionaires, parking lot attendants, ushers, and other folks whose livelihood depends at least in part on baseball games being played, and the fans, the wait will be hard.
Sadly, the MLB lockout continues.