KC Royals: Why this lockout won't solve things…yet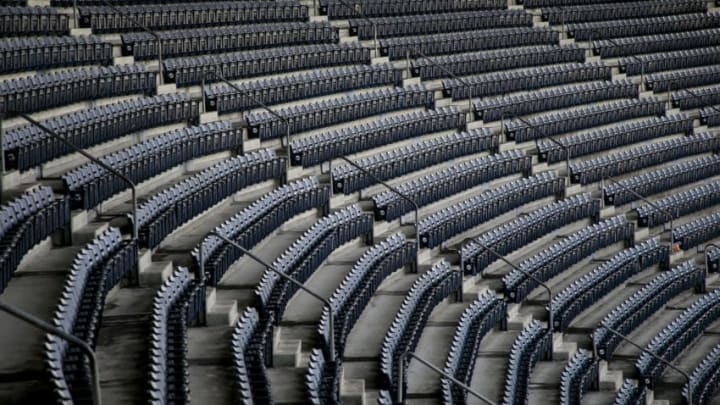 (Photo by Brian Davidson/Getty Images) /
What everyone knew was coming arrived when the clock struck midnight on the East Coast Wednesday. The major league clubs, including the KC Royals, locked their players out.
The move represents the most potent economic club team owners can wield in their negotiations with the players union on a new collective bargaining agreement. And when the Basic Agreement expired at 11:59 p.m. Wednesday night, the owners swung that club.
Whether they connected depends on how effective an early December lockout can be. And that remains to be seen.
Lockouts are management's equivalent to a strike, a work stoppage designed to so impair the other party's interests that it leads to concessions and, ultimately, an agreement. Lockouts deprive employees of what puts food on their tables, roofs over their heads, and clothes on their families' backs—their work.
But in this case, there isn't any work. Players are paid their salaries only during the regular season, so locking them out now, with no regular season games scheduled until the last day of March, has little immediate financial impact on them. (Or on the clubs, who aren't yet missing any game-related revenues).
So, what incentive to make concessions does this lockout give the players?
KC Royals players can't have contact with the club or use its facilities.
During the lockout, players can't communicate with clubs or be on their properties. That means no contract negotiations, no consultations concerning offseason routines, no workouts organized by the clubs, and no none at any team facilities.
Even routine medical treatments and services are off limits, although the teams could conceivably agree to allow injured players, such as those recovering and rehabilitating from Tommy John and other surgeries (like Kansas City reliever Richard Lovelady, who the club non-tendered Tuesday but re-signed Wednesday), to continue consulting with team doctors and using team facilities. But clubs don't have to agree to do either, and at this writing no signs point to them doing so.
The possibility (if not the probability) also exists that at least some players may have in hand pre-lockout, club-prescribed workout or rehab regimens that eliminate any need to consult with team personnel. And many have adequate training facilities at their disposal.
Do any of those prohibitions, then, put real pressure on the union to concede? No.
The KC Royals can't engage in any player trades or sign any free agents.
The lockout also brought the curtain down on major league roster transactions, ending an exciting and captivating few days of major free agent signings. Now, and until the clubs and union hammer out a new agreement, no free agent deals can be struck, no trades made, and no big league players signed to new or extended contracts.
Consequently, the Royals and their six remaining arbitration-eligible players—Brad Keller, Adalberto Mondesi, Scott Barlow, Nicky Lopez, Cam Gallagher and Andrew Benintendi—can't agree on, or even discuss, arbitration-avoiding deals.
The halt to all transactions doesn't affect minor leaguers, so trades of those players are allowed.  But it presumably applies to NPB player Seiya Suzuki, who posted several days ago. His posting window will probably be extended, although not being able to talk with him shouldn't impact the Royals because he may not be an outfield answer for them.
In the final analysis, the transaction freeze alone won't force players to give in. Although a prolonged lockout may weaken the market somewhat, free agent deals will still be there when the lockout ends, albeit with less time to reach them before spring training camps open (whenever they do). And eligible players can still go to arbitration unless the clubs and union agree to replace it with a new process.
Locking the players out prevents them from calling a strike in the spring.
A palpable immediate impact of this lockout is its effect on union strategy. In a nutshell, it dealt it a severe preemptive blow.
The players can't strike. Or stated differently, they could call a strike, but to no avail—declaring one would be purely symbolic, if even that. Strikes are refusals to work, but the owners deprived the union of the value of its best economic hammer by locking the players out. That itself, however, won't make the union capitulate.
The passage of time could increase the impact of the new work stoppage.
That in its early stages the lockout won't panic the players, or compel them to make sudden strategy changes or concessions, is true. That may not be the case, however, if it lingers too long. Pressure will mount on the union as the season gets closer—members will want to be paid, especially those making the major league minimum salary or close to it. Lack of income can eventually strike at the heart of even the steeliest resolve.
So, the real value of this early lockout isn't its immediate impact, but instead its very existence. It won't just yet, but the work stoppage has the potential to at some point (perhaps even soon) bring new urgency and compromise to negotiations, and that's what the clubs are banking on.
When will the lockout end so the KC Royals can resume normal operations?
Is there any question the owners, players and fans want answered more than this one? No, but it's an answer no one has. The issues are, at this point, difficult, and the parties appear to be far, far apart.
The players want an agreement that ends or seriously disincentivizes tanking, which they consider bad for player compensation. They want the luxury tax threshold increased so teams will spend more on salaries. They want more money for low and mid-tier players. And they want to put a stop to service time manipulation, the practice of delaying players' major league debuts to that point in a season when they can no longer qualify for a full year of service time credit, which effectively delays for a year their eligibility for free agency.
The clubs want expanded playoffs, which will increase team revenue; the players recently offered to expand the postseason to 12 teams but threw in a proposal to go to two divisions in each league. The owners have proposed replacing the current arbitration process with compensation increases determined by fWAR (a concept with which the union will never agree), and making players eligible for free agency at age 29½ instead of when they accumulate six years of major league service time.
Those aren't the only issues, of course, but they pose some of the greatest obstacles to a quick agreement.
The new work stoppage isn't significantly impacting the players yet; at some point, it will. But baseball's is a strong and resilient union, one noted for its willingness to take and hold hard lines, so the players may defend their positions longer than the owners anticipate.
Let's hope the parties forge a deal before thigs turn uglier than they are now.
The lockout is on. Time will tell whether it brings the clubs and players closer to a new collective bargaining agreement. But it has some potential to do just that.