MLB Draft: Outfielder checks the KC Royals' boxes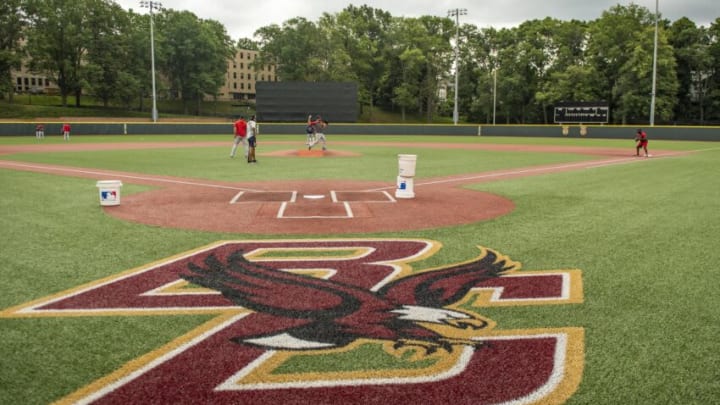 (Photo by Billie Weiss/Boston Red Sox/Getty Images) /
With the major league amateur draft coming soon, the big question is who the KC Royals will take with their first selection. Having the seventh overall pick, Kansas City may not get its shot at the very best prospects, such as Marcelo Meyer, Jordan Lawlar, or Jack Leiter, but plenty of talent will be available to the Royals.
What KC could strive for in the draft is to build up a position that's been lacking in recent years. Because the team focused on pitching in recent drafts, selecting Asa Lacy last year, and Brady Singer, Kris Bubic, Jackson Kowar, and Daniel Lynch in 2018, Kansas City may shift gears and go for an outfielder this time around.
The last time the KC Royals drafted an outfielder in the first round was 2011, when they selected Bubba Starling of nearby Gardner, Kansas with the fifth overall pick.
Currently, the outfield isn't truly set for the Royals, aside from Andrew Benintendi being the long-term answer in left. So, the club could look for outfield help in the 2021 draft by selecting Sal Frelick.
Sal Frelick seems to be a true embodiment of the KC Royals' style of play.
Frelick is a skilled outfielder who's posted fantastic numbers on offense and defense during his time at Boston College, where he's played since 2019, and in the Collegiate Summer League as a member of the North Shore Navigators.
Ranked No.11 among mlb.com's best players available for the draft, Frelick stands only 5-feet-9, but has speed and athleticism aplenty. He excelled in baseball, football and hockey in high school and even captained each team.
In Frelick's 2019 freshman year at Boston College, he slashed .367/.447/.513 in 39 games before knee surgery ended his season. But Frelick's game hasn't wavered since, as he's slashed .345/.435/.521 with a .956 OPS since joining BC.
He's not much of a power hitter, with only 12 home runs in three Atlantic Coast Conference campaigns, but his speed is prominent—he's stolen 38 bases in his collegiate career. Frelick also had 63 RBIs and scored 97 runs. His 60 walks exceed his 50 strikeouts, which shows Frelick to be patient at the plate. And after COVID-19 cut the 2020 NCAA season short, he had a superb summer with North Shore, slashing .398/.473/.592 in 24 games.
The 21-year-old's defense is also superb—he won the first Gold Glove in Boston College history. With plays like this, it's no wonder why:
Could Sal Frelick someday put an end to the KC Royals' right field carousel?
The Royals have for years been cycling through right fielders like Jeff Francoeur, Nori Aoki, Alex Rios, Jorge Bonafacio, Bubba Starling, and even Jorge Soler and Whit Merrifield. Frelick could potentially be the first true right fielder that Kansas City has had in awhile—he's played more in center, but can also play right.
Undoubtedly, Frelick's style of play, with his speed, athleticism, and defensive prowess, fits the Royals to a T. If the club wants to consider building up their outfield for the future, Frelick could be a good player to start with.
With the major league draft coming up, the KC Royals could look to fill an outfield need with Sal Frelick.