KC Royals: Key players catching fire, help fuel win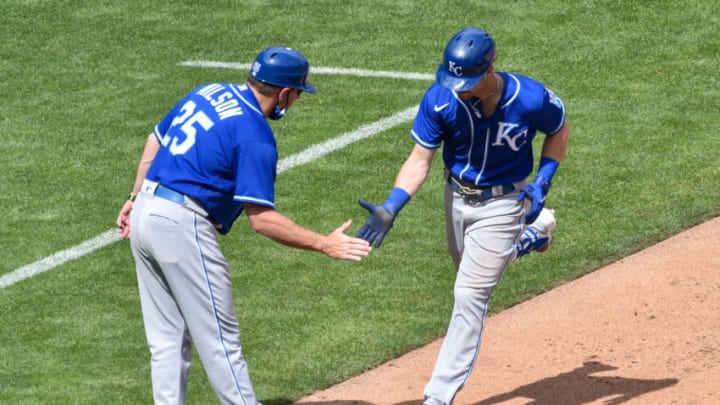 (Mandatory Credit: Jeffrey Becker-USA TODAY Sports) /
A pair of KC Royals are he heating up and played key roles in Saturday's win.
KC Royals Manager Mike Matheny no longer deploys Andrew Benintendi and Salvador Perez close together in his lineup, and hasn't for some time. Instead, Perez typically hits third or fourth while Benintendi seems settled in the seventh slot, a move downward occasioned by his frustratingly slow start.
Their positions on the lineup card hadn't much mattered, though, as the team arrived in Pittsburgh for the second leg of its current three-city road trip with Perez in a 2-for-17 funk since leaving Kansas City, and Benintendi trying to recover from a 3-for-21 performance in the last two series of KC's homestand.
But despite the space between them in the lineup, Perez and Benintendi, upon whom the Royals must depend if their winning ways are to continue, are heating up. The duo was ablaze Saturday against the Twins and, together with sizzling starter Danny Duffy, instrumental in Kansas City's 11-3 victory.
Duffy, stunningly rejuvenated and probably pitching the best baseball of his career, all but shut Minnesota down. He struck out seven and surrendered just a run on two hits in cruising to his club-leading fourth win of the year; amazingly, that lone run raised his ERA to 0.60.
And the hot bats of Perez and Benintendi were integral to his teammates providing Duffy with so much room to work with.
Perez, whose first inning double gave the Royals their first run, clubbed a Matt Shoemaker slider over the center field fence in the third, a two-run, 434-foot blast that made it 4-0 and provided the last run Kansas City needed. Perez finished the day 2-for-3 with three RBIs and two runs; the homer was his sixth of the season, good for a tie with Carlos Santana for the club lead.
And Benintendi slammed his second and third homers of the year; he added a single and scored three times.
That's not to say, obviously, that Perez and Benintendi alone accounted for the KC attack that contrasted so starkly with the feeble one-run, four-hit effort, and some unfortunate pitching by relievers Tyler Zuber and Wade Davis, that assured a 9-1 loss to the Twins the night before. Assisted by two errors, Whit Merrifield's double accounted for three runs, including the one Nicky Lopez scored all the way from first base, Ryan O'Hearn homered, and Carlos Santana and Michael A. Taylor had two hits apiece.
The exploits of Perez and Benintendi, however, were the most impressive and, importantly, continued their recent good work at the plate. Since hitting the road eight days ago in Detroit, Benintendi is hitting .434 (10-for-23) with three homers, six RBIs and seven runs scored; Perez is batting .281 (9-for-32) with three doubles, a homer and four RBIs.
Together, and although Benintendi sat out one of the two games in Pittsburgh, they've combined for four homers, 10 RBIs and scored 10 runs in eight games.
Perez had been hot before his recent slump, and Benintendi is now beginning to hit like the Royals want and expect him to. This is indeed good news for Kansas City, whose success depends in no small part on their production.
The KC Royals and Minnesota play the rubber game of their first series of the year today. If Perez and Benintendi continue their good hitting, KC's chances are good.
First pitch in Minnesota today is scheduled for 1:10 p.m. CDT. Brad Keller (2-2) is scheduled to start against Minnesota's Jose Berrios (2-2).