KC Royals still sitting low in MLB's power rankings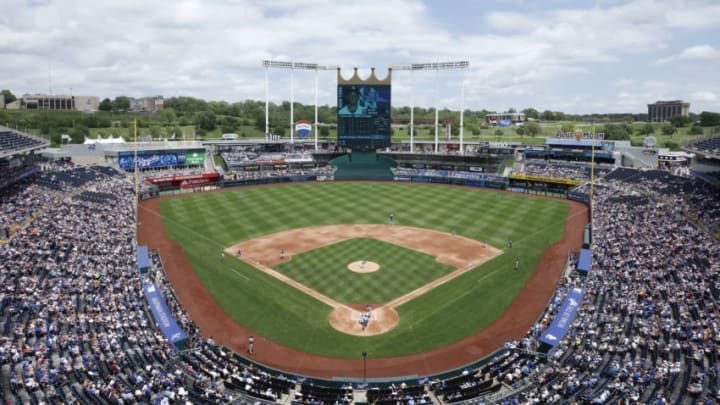 (Photo by Joe Robbins/Getty Images) /
The KC Royals have surprised those around MLB this year, but some likely think it's just a hot start and nothing more.
It's not typically expected that the Royals will show up and blow everyone away to start the season. Even when they have a promising offseason and spring training, April is often a difficult month for the boys in blue. When they get off to a good start, like they have this season, it might be time to pay attention.
The Royals are currently enjoying a great start to the season and it's a welcome sight after a few years of depressing baseball. With a win/loss of 9-5, their .643 winning percentage is the second-best in baseball behind only the Dodgers (.813) and sitting nicely in front of their AL Central rivals, Cleveland being the closest and a game and a half behind.
Along with all of this, the Royals have still not lost a series so far. What may be most impressive, though, is that Kansas City has managed to do all of this while somewhat struggling through games.
While things are getting back on track now, the starting pitching started off the season rough, and through the first couple of weeks of the season, the bats have been largely quiet. While there are plenty of positives, these negatives may be what is reflecting overall in the power rankings.
It may not have been expected the Royals would jump to the top 10, but sitting at 21 last week in MLB's power rankings, a number in the teens would have been easy to believe. This week, though, the Royals jump only one spot to 20. 
While this is still likely higher than Kansas City made it during most of the last few seasons in various rankings, it feels like the argument could be made for them to move up a few more spots.
They are sitting behind the Indians, Twins, and the White Sox, all three AL Central teams that Kansas City is currently ahead of in the standings. They are also behind the Blue Jays, who they just beat in 3 out of 4 contests, and a team like the Astros who are currently sitting one game under .500.
Of course, it's still early. As was said before, most didn't expect the Royals to get off to a hot start. Even with their wins, they have made it clear that there are still some screws to tighten up.
It's likely this is the reason for still being a bit low in the power rankings as some will want to see if they can sustain their success and continue to put up wins.
The Royals will begin a series tonight against a Rays team that just completed a three-game sweep of the Yankees. Kansas City should be able to hold their own, but they will have to make sure they quickly put out the fire.
Taking the series against the Rays this week and finding some wins against Detroit over the weekend could finally help push the Royals up in the power rankings and find them the respect they deserve.
The KC Royals are still sitting at only 20 on the power rankings despite holding the second-best record in baseball. Hopefully, they can show those around MLB that they are here to continue winning.