KC Royals Projections: Nick Heath's spot is up in the air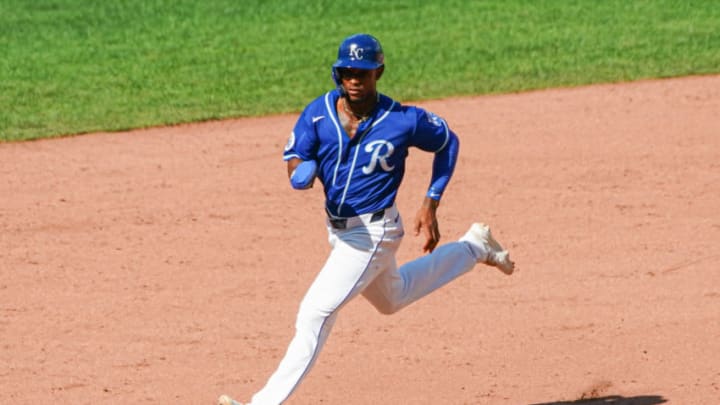 (Mandatory Credit: Jay Biggerstaff-USA TODAY Sports) /
The KC Royals outfield is starting to fill up and jobs may be hard to come by, even for speedy prospects.
Welcome back to Kings of Kauffman's KC Royals Projections series for 2021. Between now and Opening Day, our writers are analyzing how various Royals performed last season and predicting how they might fare this year. Up today is outfielder Nick Heath.
Whether KC Royals fans follow the minors or not, Nick Heath is a name that is likely well known. The Royals have had high hopes for the speedy outfielder, and he finally got his shot at some major league innings last year.
Heath is currently the 27th ranked prospect in the Royals minor league system, but that didn't deter them from promoting him over others. At 27 years old, he has seen a few years in the minors and quickly made his way through each level.
He was drafted by the Royals in 2016 from Northwestern State University of Louisiana. He got to work quickly, seeing 62 rookie ball games in 2016 before making his way through A and A+ in 2017. In 2017, he slashed .253/.316/.298 and stole 25 bases. He stayed in A+ for a portion of 2018 but moved up to Double-A as well.
2018 brought better numbers and Heath slashed .274/.376/.358 along with stealing an impressive 39 bases.
The success continued for Heath into 2019. He split the season between Double-A and Triple-A. He slashed .255/.345/.387, and while he saw a dip in his average, he made good use of his time on base to steal 60 bases.
While there was no minor league season in 2020, Heath got some work in the alternate site camp and finally got his chance at some major league time. He struggled, slashing .154/.313/.231, but the sample is small (18 plate appearances) and it's normal for a prospect to struggle during their first major league at-bats.
Still, Heath seemed to be somewhat of a lock for the 2021 season, at least in a bench role. Changes to the lineup, though, could hurt his chances for more playing time, though.
Baseball Reference and FanGraphs projections for Heath's season
Baseball Reference and FanGraphs have different ideas for Heath's 2021 season. While both see him as a more part-time player, Baseball Reference sees him getting a lot more time.
Baseball Reference projects Heath for 224 plate appearances, stealing 5 bases, adding 28 RBI's and slashing .235/.323/.398, numbers that are not unbelievable. FanGraphs depth charts have Heath at 5 games at 14 plate appearances, with 2 stolen bases and slashing .208/.282/.298.
How will 2021 actually look for Nick Heath?
It would not be surprising to see the Baseball Reference numbers come true for Heath this season. He will, if given a spot, likely hold a bench role and while he would see some time in the outfield, he may be used more for pinch-hitting and running due to his speed.
Things have gotten even more difficult for Heath lately, though. The Royals bringing in Andrew Benintendi seems to have complete the outfield with Whit Merrifield and Michael A. Taylor, and now that it's reported the Royals will bring back Jarrod Dyson, the playing time for Heath looks to be getting lower and lower.
Heath still has minor league options, and the Royals may opt to start him down to get some extra work. That's doesn't mean he won't see any major league time this season, but depending on how everyone else is playing, it could seriously limit how much he gets.
While Heath's spot for 2021 seems up in the air at the moment, it's still likely he will see some major league innings at some point. It could come early or it could be late, but his speed will likely be a reason the Royals want him in Kansas City.
Nick Heath's 2021 season is full of unknowns at the moment, but it's likely he will see major league time at some point during the season.