KC Royals Lineup: Starting rotation not drawing raves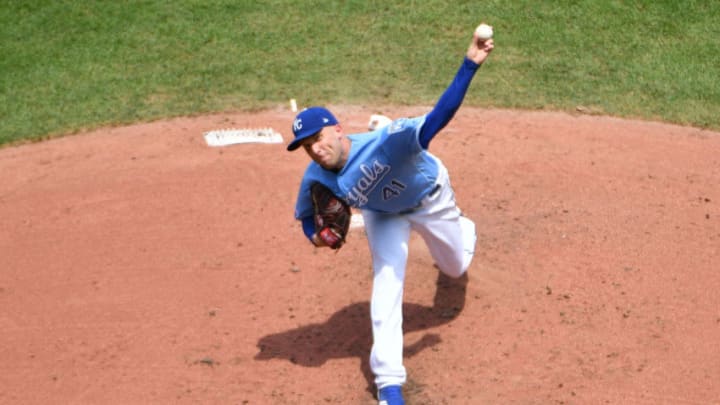 (Mandatory Credit: Denny Medley-USA TODAY Sports) /
The KC Royals' rotation appears to be set, but the group isn't getting much attention.
The latest of the annual batch of preseason Top 10 lists is out and, not surprisingly, the KC Royals aren't on it.
The Dodgers predictably led Friday's release of mlb.com's 2021 best 10 starting rotation rankings. Likely pushed to the No. 1 slot by the day's signing of premium free agent Trevor Bauer to supplement the already-formidable quartet of Clayton Kershaw, David Price, Walker Buehler and Julio Urias, LA's starting five beat out San Diego's formidable rota and affirmed how riveting the 2021 National League West race could be.
But despite its wealth of potential and talent, the Royals' rotation didn't draw any attention. Not even a peep, nor a mention in the seven-team toss-up mlb.com declared the 10th spot to be.
The omission of Kansas City from the list of 16 teams considered for the site's Top 10 is justified. As it stands today, KC's presumptive starting five—Danny Duffy, Brady Singer, Kris Bubic, Mike Minor and Brad Keller—simply don't stack up as a top-level group. At least not yet.
It's not hard to see why.
The unpredictability and inconsistency of Danny Duffy
Can it be only four years since the January day the Royals handed Danny Duffy a five-year, $65 million contract to reward him for his stellar 12-3 2016 season? The deal implicitly anointed Duffy the staff ace entering the 2017 campaign, which the club hoped would be one last and successful hurrah for the core of players who led them to a World Series title. But like the team, Duffy fell short, his losing 9-10 record a disappointment.
Duffy's failure to meet expectations is well-documented. That 2016 season is by far his best, his 7-6 effort two years ago is the only winning record he's posted since signing his big contract. An unfortunate combination of inconsistency, some poor run support and occasional injuries plagues him.
This will be a pivotal season for Duffy. If he doesn't pitch well consistently, it may be his last with the KC Royals; a return to pre-2017 form may force the Royals to deal him at the midseason trade deadline even if they're contending. Still, he remains a key to the club's 2021 prospects: KC won't do well without the Good Duffy unless they replace him.
Can Brady Singer build on his 2020 experience with the KC Royals?
No one doubts Brady Singer's ability. Proof of how good he is, and can be, is in the near no-hitter he twirled against Cleveland last September. In just his ninth major league start, Singer didn't allow a hit until Austin Hedges punched a full-count single through the right side hole with two outs in the eighth. Singer finished the inning before giving way to the bullpen; he struck out eight, walked just two, and gave up only Hedges' single.
Singer, 24, won two of his next two starts to finish his first big league season 4-5, 4.06. He and Kris Bubic, the other Royal rookie to make the rotation, teamed up to be one of the best rookie starting tandems in recent history, but Singer was the better of the two. He displayed some typical rookie inconsistency, but also a mound presence defying his youth and inexperience.
Now, with a full regular season realistically in the offing, much depends on Singer. For the club to succeed, Singer must build on what he learned in 2020 and turn that experience into more wins. But because last season didn't give Singer a full season's foundation, how well he'll perform in 2021 is an open question.
Kris Bubic needs to improve on his rookie season
Like Brady Singer, Kris Bubic is a pitcher of inarguable talent, skill and potential. His first-year record is a bit misleading (1-6,4.32); he pitched quite well at times and occasionally showcased how good he can and probably will be.
His poise and demeanor almost mirrors Singer's. Both are, given their youth (Bubic is a year younger than Singer), unusually cool and calm. But of the presumptive Kansas City starting five, Bubic has the most to prove: more consistency is a must, and his inexperience adds to the uncertainty that prevents the staff from higher esteem.
The newest member of the KC Royals' rotation must come through
Veteran righthander Mike Minor, Kansas City's first major signing of this offseason, may be the key to the 2021 rotation. He's in Kansas City for four main reasons: to fill out the rotation, stabilize it, mentor young pitchers, and win games. Minor needs to accomplish all that for the club to succeed.
Although he went a combined 1-6, 5.56 with Texas and Oakland last year, holding a subpar short season record against him is wrong. Minor was 26-18 in two full seasons with the Rangers after leaving the Royals following 2017 and has established himself as an effective and reliable starter in the eight seasons he's worked out of a rotation. (He pitched exclusively in relief for the KC Royals in 2017—although he had a 2.55 ERA in 65 appearances, he's not returning to the club to relieve).
Minor has to pitch well, set a good example for Singer and Bubic, and help all the young hurlers along. Doing so could help propel this rotation to great success. Not doing so will hold it back.
It's time for Brad Keller to flourish for the KC Royals
Brad Keller faces a critical season. Named the club's 2018 Pitcher of the Year after going 9-6, 3.08 in his first year in Kansas City, he suffered a distressing 7-14, 4.19 campaign in 2019. But he bounced back last season with a staff-pacing 5-3, 2.47 and reclaimed KC Pitcher of the Year honors.
Now, the Royals need Keller to prove he can be excellent for more than a season at a time. Repeating his 2020 form over an entire 162-game schedule will boost the rotation and the club. Another down season, however, will hurt both. So it is that Keller needs to be excellent in 2021.
The Royals have a rotation packed with potential. But it won't be a top-of-the-line unit until its members realize that potential.