Daniel Lynch listed as KC Royals 2021 ROY candidate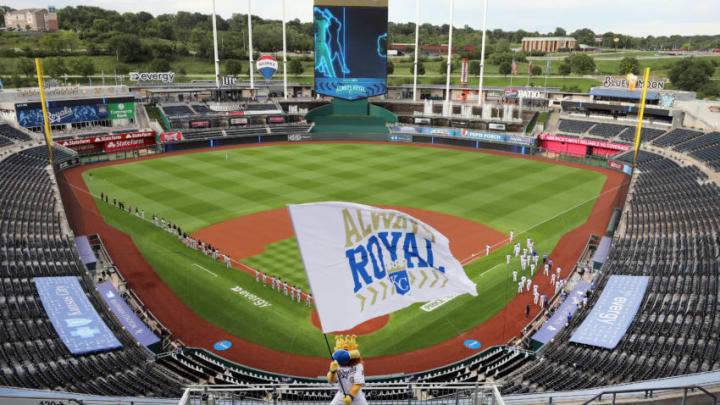 KC Royals (Photo by Jamie Squire/Getty Images) /
The KC Royals have a good future outlook in their minor league pitchers and it should be no surprise that one was picked as the team's potential 2021 ROY.
The buzz surrounding the KC Royals for a few years now has been all about their pitching potential. Pitching has been a weak point for the team for years, but now, they have put together an outstanding crop of pitching prospects at all levels of the minor leagues.
Fans got to see a few of them find some success in 2020 with both Brady Singer and Kris Bubic seeing plenty of starts throughout the season. In 2021, it's likely even more prospects could make their way to the majors.
Shawn Bauman recently provided an update on some of these young pitchers and mentioned that it might not be long before both Daniel Lynch and Jackson Kowar find their way to Kansas City.
The Royals look to be all in on the youth movement and there is no reason they shouldn't be. They have seen success from plenty of young players and it's time to start looking towards the future and get the team back to a winning season.
Recently, a piece was put up over at mlb.com with picks for each team's top 2021 Rookie of the Year candidate. For the Royals, it may come as no surprise that the pick is left-handed pitcher Daniel Lynch.
"The 6-foot-6 left-hander arguably has the best stuff in the organization, boasting a fastball in the mid- to upper-90s that he complements with a devastating slider and a curveball and changeup that both continued to improve this summer at the Royals' alternate training site. mlb.com"
Lynch is a name that many Royals fans likely know, even if they don't keep up with the minor leagues or prospects. He was one of the highly touted 2018 Royals draft picks and has been quickly making his way through the minors.
In 2018, he found success between both rookie league Burlington and A ball Lexington and was able to make his way to A+ Wilmington in 2019. At Wilmington, he pitched 78.1 innings over 15 starts, striking out 77, walking 2.6 per 9, and holding his ERA at 3.10.
Of course, Lynch still has to show that he can continue to produce at the major league level, but hopes are high for the prospect and he is considered to be one of the best pitchers in the Royals organization.
While it may be early to think about a 2021 Rookie of the Year, it's not too early to think about the possibility of some more young pitchers in the majors next season, and even more success on the mound.
Daniel Lynch was picked for the Royals in a piece on each team's top 2021 Rookie of the Year candidate.