Early look at who the KC Royals should take in next year's draft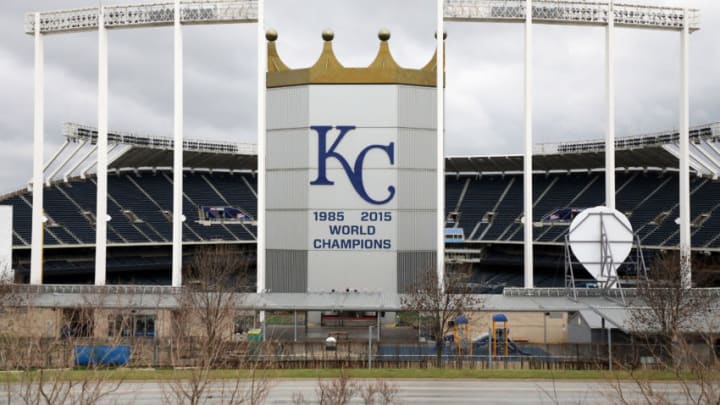 (Photo by Jamie Squire/Getty Images) /
After a truncated draft that only saw five rounds, the KC Royals will be preparing for 20-30 selections depending on how many MLB decides to go with.
The 2020 draft saw a major gift fall in the lap of the KC Royals with highly regarded Asa Lacy falling to them with the fourth pick.  Most prognosticators felt he would be gone by the second selection.  What lies ahead for 2021?  A return to draft normalcy hopefully.
Today MLB announced the draft order and by virtue of 2020 team records the Royals will have the seventh pick overall.  By winning 12 of their final 18 Kansas City most likely took themselves out of running for a top three or four pick – but it was good to see them perform well at the end.
One important change will be that if all goes well there will be college and high school baseball in the spring.  Some players are very impressive in drills but watching them perform against the competition is always a plus.
With Brady Singer and Kris Bubic already making a splash in the big leagues and surely some combination of Jackson Kowar, Daniel Lynch, Jonathan Bowlan, and Asa Lacy not far behind, we will take a look at some of the position players that will be available next summer. There are many good sites out there for reading up on how the draft might shake out, we will be using the list from prospectslive.com.
Here is a way-too-early look at who the Royals should consider from who could be available when it is their pick:
Alex Binelas, 3B – University of Louisville
While we wait to find out if Maikel Franco will be around long and with Hunter Dozier seemingly out of the hot corner picture, drafting someone to man third base in the near future is wise.  How about a 2019 Freshman All-American named by five different entities?
An injury limited him to two games in 2020 before COVID but in '19, Binelas was a beast.  Belting 14 homers and doubles, five triples, and reaching base at a .383 clip, this Cardinal was the real deal.  He made too many errors but he was a freshman and experts believe he is a good defender.
Ian Moller, C – Dubuque, IA
A prep catcher, Moller did not play high school baseball as in Iowa it runs during the summertime.  He instead travels the country showcasing his talent at various tournaments and spectacles.  And, what better place for the great-grandson of a Negro Leaguer to play than in Kansas City?
He is described as having effortless power, an accurate arm, and an extremely quick time from glove to fielder waiting to tag out a would-be base stealer.  Salvador Perez is still humming along well but we know catching is an area the Royals need to get studs in the pipeline.
Colton Cowser, OF – Sam Houston State
The Southland Conference Hitter of Year as a Freshman, Cowser had a great 2019 slashing .361/.450/.602.  He had extra bases on 31 of his 78 hits showed some speed with nine steals.  He committed a ghastly 11 errors but turned it around in 2020 with zero in the 14 games played before the pandemic shut baseball down.
Plus tools with the bat are projected and the ability to play any outfield position is promising.  We know the Royals will be looking to continue to find answers in this role and Cowser could be one of the solutions in a few years.
https://twitter.com/RazorbackBSB/status/1255537026230870016
Christian Franklin, OF – University of Arkansas
A special mention for this player as he was born in Overland Park and played his high school ball at Rockhurst.  Perfect Game ranked him as the best player in the state of Missouri before he went off to college.
An SEC All-Freshman Team member in 2019, Franklin hit .274, drove in 34 runs, and drew 23 walks. He was off to a monster year in 2020 with 24 hits in his first 63 at-bats and led the team in hits and times reaching base.  He also impressed scouts with his exit velocity and is graded as an above-average runner.
The next several months will see players move up and down the charts and predictions on who the KC Royals should take will vary.  Most importantly, if we get to watch the prospects perform this spring, that will constitute a huge win for all baseball fans.