KC Royals: Does remaining schedule help or hurt?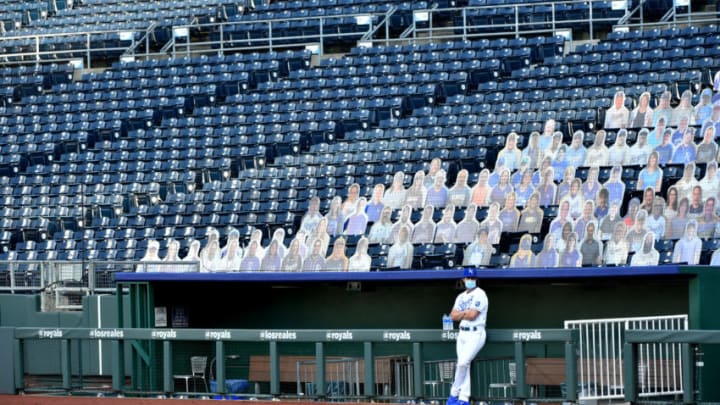 (Photo by Ed Zurga/Getty Images) /
The KC Royals play 14 more games against teams from the NL Central, none of whom have winning records.
This year's COVID-19-forced modified schedule limits teams to playing their division opponents and those from the other league's "corresponding" division, so the only teams outside their division the Royals play are NL Central clubs.
Kansas City played a four-game, home and home series with the Cubs and went 1-3 against the team that so far has lost only three games and leads its division; fortunately, KC won't see 13-3 Chicago again this season. The Royals split two road games against the Reds, who were without injured former Royal Mike Moustakas, and face them next week at home in the final pair the teams will play this season.
That leaves three games against Pittsburgh in Kansas City, three games in Milwaukee (KC won't see former Royal Lorenzo Cain, who opted out of playing this season), and six possible games against St. Louis. The six contests against the Brewers and Pirates presently size up as good chances for KC Royals wins–the Brewers are 7-10 after losing to the Cubs Thursday and the Pirates, despite beating Cincinnati Thursday, own baseball's worst record at 4-13.
The greatest uncertainty lies, of course, with the Cardinals, players of only five games after a hard COVID-19 hit. Including the postponement of Thursday's scheduled doubleheader against the Tigers–itself a makeup of two postponements–St. Louis hasn't played at all in August, and not since a July 29 loss to Minnesota.
News came Thursday night, however, that, despite a new positive test of a Cardinal staffer and an "at risk" player being moved to the Injured List, the Cardinals are scheduled to resume playing Saturday. Whether the staffer's test and any further developments with the player affect that plan remain to be seen; the Royals are scheduled to play three night games in St. Louis starting Monday, and three games against the Cards at home next month. It's hard to gauge a team's chances against another team that hasn't played in almost a month and only five games in all.
But the Royals can't dislike the opportunity these NL Central teams presents–the Brewers, Cards, Pirates and Reds all have losing records and are a collective 20-35. (KC's AL Central opponents, on the other hand, are 41-32; postponements involving Miami and St. Louis account for the disparity in games played).