KC Royals continue to ensure safety of players and staff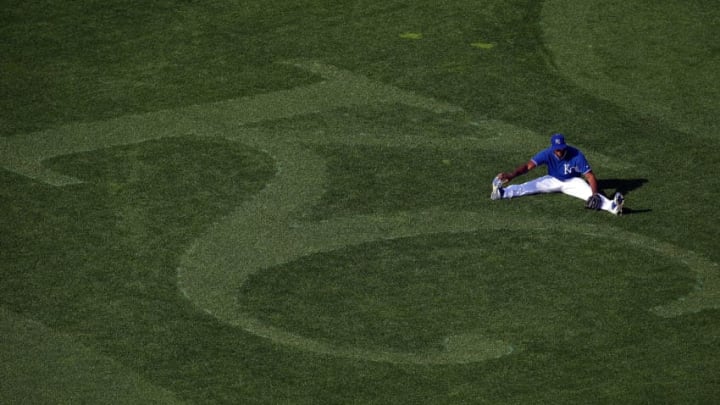 KC Royals (Photo by Ed Zurga/Getty Images) /
The KC Royals, like all MLB teams, have to ensure their players are healthy and safe as they prepare for their upcoming 2020 season.
Safety is the new name of the game in the MLB and across the world in general. The KC Royals are looking forward to getting back to playing the game they love, but both on and off the field, they have to follow some new restrictions to ensure a season actually happens.
With reports from the first round of COVID testing that multiple players tested positive, it may have some worried for the 2020 season, though, at the moment things look to be continuing in the right direction.
Hayley Lewis at KSHB.com in Kansas City reported Sunday that the Royals underwent a second round of COVID testing. It's no surprise that testing has continued, as some have come back positive around baseball, including Salvador Perez, and as teams want to ensure that players continue to stay healthy and have nothing to worry about.
While testing is one of the main protocols that must be followed, according to Matheny, the team has a few more that must be upheld.
""We have an app [on our phones] that we go to that goes through [a] list of question[s], and then we take our temperature twice before we leave home," Matheny said. "Then once we get to the ballpark, we have a face-to-face screening, from a safe distance of course. Then we take our temperature two more times and then were given access to the stadium." -KSHB.com"
Nicky Lopez also mentioned that it's easy to forget that some of these actions are needed, like wearing a mask, but it's up to the players to help keep each other accountable for their protection as they are working together to keep everyone ready to go.
Hayley Lewis also makes note in the article of an important reason the players need to continue following the health and safety protocols that are in place. With the 2020 season being limited to only 60 games, a positive test midseason could see a player sitting out for a good portion of the season.
Missing 2-3 weeks of a 60 game season due to testing, recovery, etc. could put some players and teams at a serious disadvantage and far behind others.
With the proper safety restrictions in place, though, teams can hopefully continue to avoid issues with positive COVID tests and work towards playing the 2020 season that both fans and players have been waiting for.
There are still a lot of unknowns surrounding baseball and sports in general, but things look to be running smoothly for now. With many protections in place, fans can only hope players will continue to stay healthy and the season will be played without issue.