KC Royals: Taking care of players is proving to pay off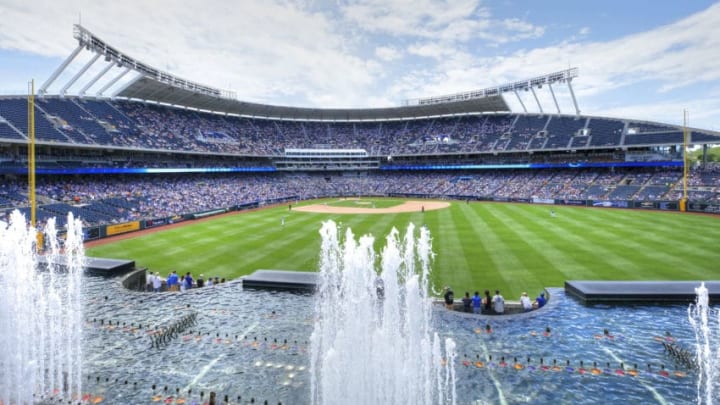 KC Royals (Photo by Joe Robbins/Getty Images) /
The KC Royals are known by many as an organization that cares about their players, and they are seeing the rewards of this following the 2020 draft.
Most KC Royals fans likely have a lot of good things to say about the organization in terms of how they treat players and operate. There may be some constructive criticism to go around about some aspects of play, but players seem to be happy within the organization from the veterans down to the minor leaguers.
Recently, Jordan Foote had some thoughts about the way the Royals handle their players and how it might work in their favor when it comes to non-drafted free agents. He mentioned the importance of relationships and how the Royals scout players.
Kansas City focuses on connecting with players, ensuring they know them and know what they are about. Players should feel comfortable coming to Kansas City to start or continue their careers, and for a small market team like the Royals, it's a smart way to handle business.
Now that the draft is complete and teams can start reaching out to the non-drafted free agents, the Royals have started making some noise just as many thought they would. One player who really liked what he saw in the organization is catcher Kale Emshoff.
Emshoff has played the last few years in college for Arkansas-Little Rock. He has seen his share of struggle, and even had to undergo Tommy John surgery, but has continued to put in the work. He will take some time to bounce back fully, but with continued catching from Salvador Perez in Kansas City, time is something the Royals can likely provide.
Emshoff has room to grow and needs to show continued progress with his plate discipline, but has shown enough to be bombarded by calls from teams all over the country once allowed. He has what it takes to stick as a catcher, and his offense looks to be on the rise.
In 2018 he slashed .273/.377/.415 with 4 home runs but found a way to progress further in 2020, slashing .417/.527/.800 with 7 home runs over only 74 plate appearances. A small sample, yes, but promising if the Royals can help him to continue this success.
In a recent article about Emshoff and the Royals scouts, Lynn Worthy caught up with Emshoff to talk about the recent signing. He recounts that there were 15 phone calls in the first minutes once teams were allowed to contact non-drafted free agents. Luckily, the Royals were always on his mind.
""Probably the one thing that stuck out the most was how they handled scouting me," Emshoff said. "Matt Price was just awesome. What a great guy. He preached nothing but family. He wasn't trying to sell me like a used car salesman. Some of the other clubs were saying, 'We've got this, this, this and this, come here.'"Matt and the Royals weren't like that. They were like, 'Hey, you know what you're getting into. We're a family. We don't cut our minor-leaguers. We pay our minor-leaguers.' It spoke loudly to me.""
The Royals may not have the best record in baseball, but there is something to be said for their scouts and their handling of players. The Royals are seeing some rewards for standing by their minor leaguers and the future in Kansas City is looking brighter and brighter.
The Royals are continuing to look at available players to make the best signings possible. Continue checking back to see any new signings and get to know new players coming into the organization.