KC Royals MLB Draft: Zac Veen presents interesting dilemma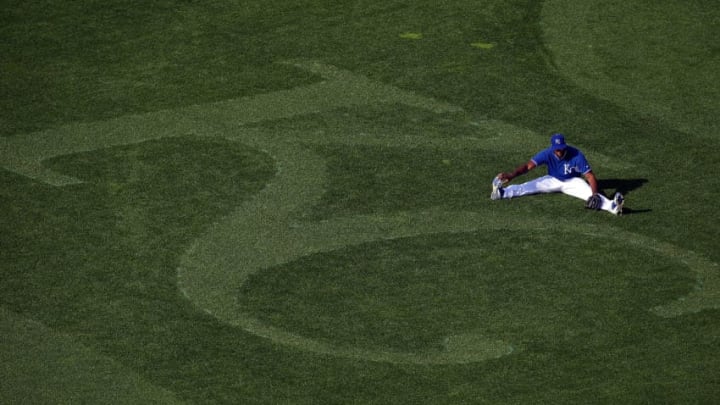 KC Royals (Photo by Ed Zurga/Getty Images) /
Should the KC Royals gamble on a high school batter for the second year in a row?  Zac Veen makes a strong case to roll the dice.
It will not be long before we know who the KC Royals selected with the fourth pick overall in the 2020 MLB Draft.  There are many tempting players to choose from.  If Zac Veen is still on the board, I do not believe many people would blame the team for anointing him as the next big thing.
The Royals loaded up on college arms in the first round of 2018 and then selected high school Bobby Witt, Jr. second overall in last year's Major League Baseball Amateur Draft.  Would gambling on another high school position player be wise?  Only 14.1 percent of these players make it to the majors.
On the other hand, you do not want to be the team that passed on a player who makes multiple All-Star teams while the guy you took in front of him struggles in the minors.  Let's take a look at what we know, or think we know, about Veen.
Prep ball and scouting reports
Veen is projected to potentially play all three outfield positions depending on how his body fills out and has a very impactful swing.  Scouting reports show exit velocities at 98 mph and he can do it to all fields.  He is already 6'4″ and weighs 190 lbs — and that could easily convert into more bulk.
With a few years in the minors, he has one of the highest ceilings of any draft pick.  Being a middle-of-the-order productive bat is where many scouts see him ultimately.
Potential red flags that would give the KC Royals pause
Most experts agree that there is little downside to taking this prep player.  One thing to keep in mind is that he only came on the scene due to his performance during the summer of 2019.  Prior to that, he was not a name tossed around when discussing top high school players.
Without seeing much during his senior year in high school, it is not known if Veen would have solidified his predictions or lowered his stock in the draft.  The Royals do not have much success in drafting high school position players with their first pick lately.  The last decade has seen Bubba Starling, Chase Vallot, and Nick Pratto chosen in the first round.
How would Veen fit into future KC Royals plans?
Kansas City has a few interesting outfield prospects coming up through the minors, but none of them have the power potential Veen does.  With Alex Gordon's days numbered, Whit Merrifield already being 31 years old, and the verdict out on how Hunter Dozier adapts to right field whenever baseball resumes, the need for an impact player in the outfield is great.
The only issue is that it would probably be three or four years before Veen would grace the grass at Kauffman Stadium.  If he develops like many predict he will, he could be a force in the third or fourth spots in the lineup for many years to come.
If Veen is the choice for the Royals, it signals that they feel confident they can cover the outfield roles for a few years until he develops.  The current situation appears that is not necessarily the case, but the wait could very well be worth it.