All-time KC Royals starting lineup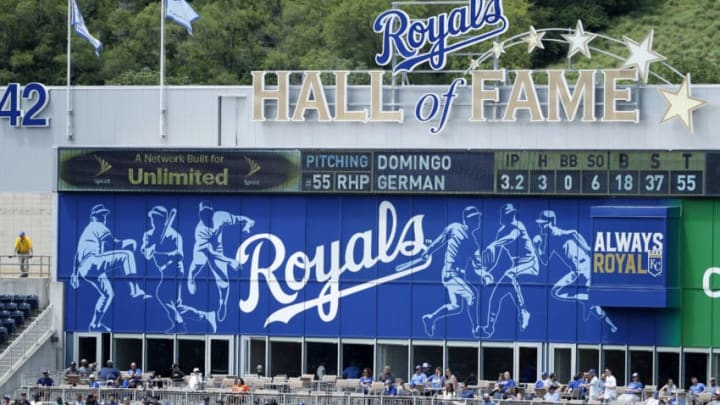 (Photo by Joe Robbins/Getty Images) /
KC Royals, /
The top of the KC Royals batting lineup consists of players who haven't graced Kauffman Stadium in Royal blue since 2007.
1. 
Leading off and playing center field will be former Rookie of the Year Carlos Beltran.  Not ideally where I would like to bat him but with the selection of players available he has the on-base percentage and speed I like at the top of the order.
During seven years in KC, Beltran's OBP was .352 and he swiped 164 bases.  The 123 homers are a nice option to have to start the game with fireworks as well.  He mixed in limited amounts of left field, right field, and designated hitter, but Beltran's primary place was in center.
He was error prone, committing nearly 40 errors in his time there but he also had a nice arm assisting on 61 outs. He did win three Gold Gloves in a row shortly after leaving the Royals during his stint with the New York Mets.
Despite finishing ninth in MVP voting in 2003 with the Royals, curiously Beltran was never selected as an All-Star representative while with Kansas City.  But with a WAR of 22.9 during his time with the franchise, he would be a great switch hitting weapon for the top of our lineup.
Beltran was briefly considered as a managerial candidate following Ned Yost's retirement.  Knowing now what played out, it turned out to be a wise move to not pull the trigger on that.
2.
Again, this will put him out-of-place where he typically batted but I believe the two-spot will be a great fit for Mike Sweeney.  The guy rarely struck out and collected a .369 OBP during his time in Kansas City.  He was not drafted until the 10th round in the 1991 Amateur Draft but he cemented his place in KC history with 13 years of hard-nosed ball.
Sweeney began his big league career as a catcher and then split his time between first base and designated hitter.  We will slide him into the DH role for this lineup.
His first full season was 1999 and he was fabulous with a .907 OPS while smacking 22 homers and 44 doubles.  He would ultimately deposit 197 balls over the fence while with the Royals and just missed hitting .300, finishing at .299.
Five of six season between 2000-2005 Sweeney was an All-Star and in 2001 he drove in a Royals single-season best 144 runs, surpassing Hal McRae by 11.  His highest OPS+ output was in 2002 when he produced career bests in batting average (.340) and slugging (.563).
He now serves as a Special Assistant-Baseball Operations, a role he has had since retiring from baseball.  He still brings his talent to many Royals players, including working with Ryan O'Hearn last year.
3.
This is the part where bias might play a role.  Not in the selection of the player but his position in the lineup.  Can you really see George Brett anywhere but third in the order though?  Plus it flows to follow-up a right-handed slugger with a left-handed one.
Brett is a KC Royals icon and we have discussed many of his accomplishments before.  Over 3,000 hits, 600 doubles, 300 homers, 1500 RBI's and a career .305 average are just some of the jaw-dropping numbers.  He even swiped over 200 bases.
Thirteen straight All-Star Game selections, placing third in ROY voting in 1974, four top-3 MVP voting finishes which includes winning it in 1980.  He did win one Gold Glove although statistically he was often near or below the league average in fielding.  However, with the game on the line, there is no one else I would also want managing the hot corner.
That rounds up the top three in the batting order, we will next choose who will be in the meat of the order.