Projecting KC Royals prospects: No. 16, Brewer Hicklen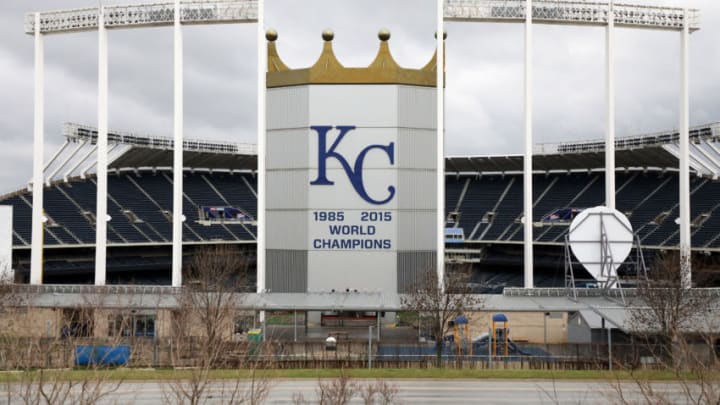 (Photo by Jamie Squire/Getty Images) /
A combination of speed and power makes this University of Alabama-Birmingham star a duel threat that is hard for KC Royals fans to ignore.
Welcome back to the Kings of Kauffman "Projecting the Prospects" series.  For each KC Royals' top 30 prospects, we review the best, worst, and most likely scenarios.
Brewer Hicklen fell one spot from his 2019 ranking which is mainly due to the large jump Jonathan Bowlan made.  Hicklen's stats did dip from the prior year as he made the transition to Advance-A minor league ball.
Still, he swiped the most bases in his professional career with 39, had a terrific on base percentage of .363 and continued to show pop in his bat with 34 extra base hits.  Hicklen also secured his second straight MiLB.com Organizational All-Star award, was player of the week in the Carolina League in August, and named a Post-Season All-Star as Wilmington won their league title.
Hicklen is definitely an athlete, being a two-sport star in high school.  If the UAB Blazers had not temporarily dismantled their football program he was set to play both sports at the university.  Many in the Royals organization are happy he was able to focus on baseball.
Best outcome: 
Hicklen will continue to drive balls into the gaps and over fences as well as be a speedster on the base paths.  With Alex Gordon most likely in his last season or two and Whit Merrifield temporarily positioned in the outfield, there will be a need for a speedy fielder to cover the spacious Kauffman Stadium.
On top of speed, he has a cannon for an arm that can keep base runners from advancing.  Eleven assists from the outfield in 2019 is very impressive.  There could be spots open sooner than later in Kansas City and seeing him fighting for a role on the big league club as early is 2021 is not out of the realm. If a full-time starter, a 15 home run, 20 steal season is plausible.
Worst outcome:
If the trend to strike out more and not hit for average continues as he climbs up the ranks of the minor leagues, there are plenty of other outfield prospects chomping at the bit to make the 26-man roster for the Royals.  A decent Triple-A player but not much more than a cup of coffee in the bigs if things do not go well.
Most likely outcome:
Hicklen progresses through the minor leagues and gets a taste of at least a fourth outfield role in 2022.  Plays solid defense, hits around .260-.270 and is a nice pinch running/defensive replacement option.  Logging around 250-300 plate appearances and touching double digits in home runs occasionally.
Where Hicklen is sent to once baseball finally gets underway and if he is able to rake like he did in 2018 will be a good indication of where we can expect to see him in the next year or two.  He is a mutli-tool talent who can make a big splash if it all comes together against tougher pitching.