KC Royals Rewind: Dane Iorg, a World Series hero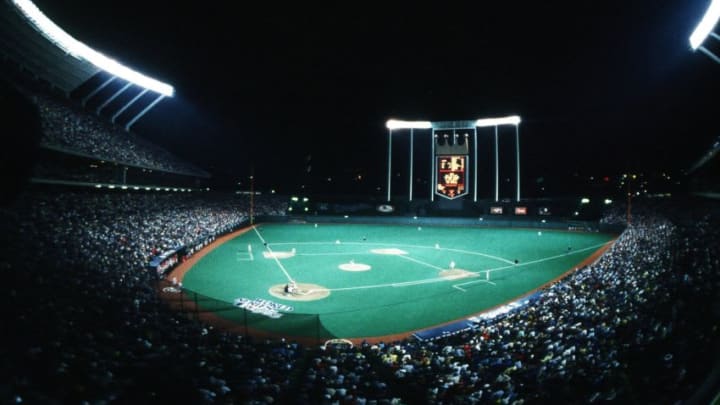 KC Royals (Photo by Rich Pilling/Getty Images) /
Game Six of the 1985 World Series will be remembered for umpire Don Denkinger's blown call that ignited the winning rally for the KC Royals. But the Royals wouldn't have won without a part-time player's clutch pinch-hit.
Welcome to the first "KC Royals Rewind." We'll be highlighting interesting moments in the team's history and players fans may have forgotten, or never realized played for the club. First up is a crucial pinch-hit from the 1985 World Series. 
Some say the KC Royals didn't win the 1985 World Series and maintain to this day that umpire Don Denkinger won it for them. Denkinger's infamous blown call in Game Six ignited the Royals' ninth-inning winning rally that forced a deciding Game Seven; but one right or wrong call can't a victory or World Series championship make.
No, what they did after Denkinger muffed The Call, and the brutal beating they gave St. Louis the next night, won that Series for the Royals. Everyone remembers The Call, but the details of what occurred in its immediate aftermath have faded from many memories; people remember the ultimate result, not necessarily what occasioned it.
And, unfortunately, Denkinger's historic mistake keeps shoving the star of the show out of the spotlight.
Dane Iorg came to Kansas City in the most unceremonious of inter-club transactions–the Cardinals simply sold his contract to the Royals in May 1984. Iorg was a part-timer, averaging about 71 games per season in his seven campaigns before the sale, but was generally good when he played. Defensively, he could play several positions; offensively, he had virtually no power but could handle the bat well. He hit .303 in 105 games in 1980, .327 in 75 games the next year and .294 in 102 games in 1982.
The 1982 World Series also proved Iorg could play. He hit .529 with four doubles in five games for the Cards, who beat Milwaukee in seven.
But Iorg was hitting just .200 when St. Louis shipped him to the KC Royals two seasons later; he rebounded and hit .287 in 78 games after arriving in Kansas City. He played in less than 40% of Royals games in '85 and hit just .223.
Then came the World Series. The Royals were on the verge of elimination in Game Six, down 1-0 in the bottom of the ninth. Iorg wasn't likely to get in the game: left-handed hitting Jorge Orta would lead off against Cardinal righty Todd Worrell, to be followed by slugger Steve Balboni, catcher Jim Sundberg and, if anyone reached base, Buddy Biancalana, who was hitting uncharacteristically well in the Series. Manager Dick Howser had dangerous Hal McRae on the bench, the certain choice over Iorg if he needed a pinch-hitter.
The Call came first. Orta hit an 0-2 pitch toward the first base-second base hole that took Jack Clark away from first; Clark flipped the ball to Worrell covering and Denkinger called Orta safe. Replay proved Orta was out but because video challenges were years away, Cardinal manager Whitey Herzog could only argue the call. Predictably, he lost.
Clark then figured prominently in Balboni's at-bat–he misplayed a foul pop and Balboni subsequently singled to left, advancing Orta to second. Onix Concepcion ran for Balboni.
Sundberg tried a sacrifice bunt but Worrell covered it in time and threw Orta out at third. Sundberg was safe at first; Concepcion reached second.
Despite Biancalana's serviceable Series hitting, Howser pulled him for McRae. In response, Herzog gambled–electing to set up a double play and force outs at every base, he ordered McRae walked to load the bases, although the strategy moved Concepcion to third with the potential tying run. John Wathan, one of the fastest catchers in baseball, ran for McRae.
With pitcher Dan Quisenberry due up (the DH was used in the Series only in even-numbered years then), Howser needed a pinch-hitter and looked to Iorg, who'd batted only once during the Series.
Iorg wisely took Worrell's low first-pitch slider to get ahead in the count. His sense that Worrell would come next with a fastball to avoid falling behind 2-0 was correct and his broken-bat fly to short right field fell in. Concepcion scored easily and Sundberg scored when catcher (and ex-Royal) Darrell Porter moved a bit too far forward to take the incoming throw, opening the backside of the plate to Sundberg for the winning run.
The Cardinals, so close to disposing of the Royals and winning the Series just moments before, were done. Forced to a seventh game they blamed Denkinger for, they fell behind 5-0 after three innings, were finished off by a six-run fifth, and lost 11-0. Iorg didn't play in the deciding contest, but without his clutch hit in the sixth game, there would have been no seventh. And no World Series championship.
Iorg became a free agent after the World Series and signed with San Diego. He played 90 games for the Padres in 1986 and retired.
People may not always remember who hit it, but Dane Iorg's two-run, pinch-hit walk-off single in the sixth game of the 1985 World Series put the KC Royals in position to win their first Fall Classic title.