KC Royals: Battle for backup outfield spot heating up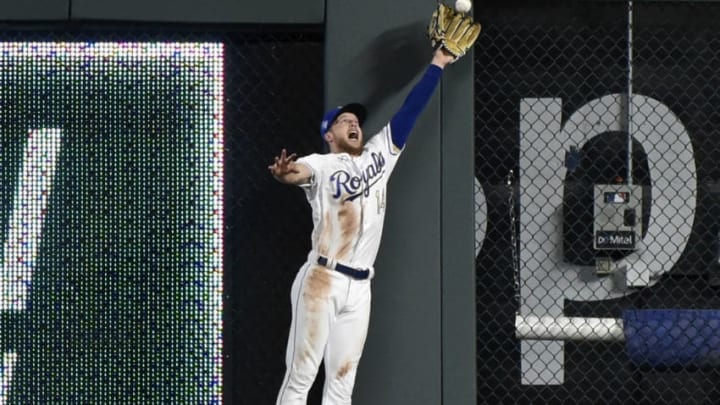 KC Royals, Brett Phillips (Photo by Ed Zurga/Getty Images) /
The KC Royals outfield seems to be set, but with plenty of players starting hot in spring training, the backup spot is up for grabs.
The KC Royals have plenty of positional battles taking place going into the 2020 season, and plenty of players fighting for those spots. While there are some positions like first base and bullpen roles that are wide open, it's assumed the outfield is fairly set.
With Alex Gordon returning for another season, talks of Whit Merrifield and Hunter Dozier moving to center and right, and Jorge Soler finding some time in the outfield, there isn't much room for anyone else to find their way in.
There will, however, likely be a backup on the bench. It's unlikely Gordon will play every day, Soler will find a lot of time at designated hitter, and there's a chance that Whit and Dozier will see time in other spots around the field as needed, calling for the necessity of having a backup outfielder.
Brett Phillips and Bubba Starling were assumed to be the two front runners for this spot. Both out of minor league options, the Royals will have to figure out how they want to handle these two going forward, and decide if it's time to move on from one or both.
But as spring training moves along, it looks as though some younger players may be looking to move in on the open backup. Outfielders Khalil Lee and Nick Heath have been working to keep their names in the mix, and they are doing a good job at it.
So far, the battle for that outfield is up in the air. Phillips and Starling might have the upper hand due to being out of options and having major league time, but with new management, anything could change.
It's still early in spring training, but here are the stat lines so far for the four outfielders:
Starling: .429/.429/.857, 7 AB, 3 H, 1 RBI, 3 R
Phillips: .000/.250/.000, 6 AB, 0 H, 0 RBI 0 R
Heath: .250/.500/.500, 4 AB, 2 H, 0 RBI, 1 R
Lee: .375/.375/.750, 8 AB, 3 H, 2 RBI, 2 R
Starling looks to be the front runner at the moment, but as spring training goes on, fans can expect all of these lines to change, for better for worse. Phillips will likely not sit at a .000 batting average for long, though he has drawn a few walks to at least get on base in a few appearances.
Lee and Starling have started early with the power, both knocking in their first home runs of the spring already. Between Heath and Lee, the speed that they are both known for has been shown as they have both stolen a base and shown their base running abilities.
Of course, for all four, defense comes easy. All have made good plays and shown their range in the outfield, and that might be the saving grace for Phillips until he can bring his bat around. He struggles offensively, but his arm is known and should be respected.
Fans can expect this battle for an outfield spot will last throughout spring training and may come down to the wire if these players continue to play at the level of baseball they have started at. The decision seemed much easier when it was likely between two, but now that more options are showing up, Mike Matheney and the Royals coaches will want to get a long look at each player in the coming weeks.
Between the four options, it's anyone's spot. Lee's young age may put him at a disadvantage with time for him to develop more in the minors, and Heath's remaining minor league options allow the team some flexibility. If Phillips continues to struggle, and Starling can't keep up his offensive production though, it may be time for the Royals to move on.
Who would you rather see in a backup role for the 2020 season? Let us know in the comments.