Jorge Soler continues slugging in KC Royals spring training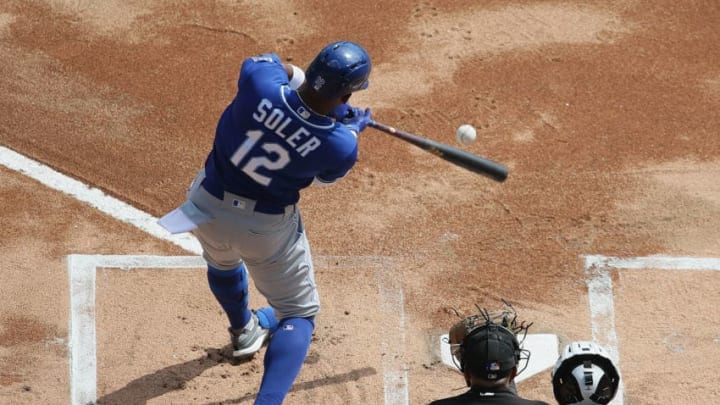 KC Royals, Jorge Soler (Photo by Jonathan Daniel/Getty Images) /
Spring training games have started and KC Royals fans can finally get a good look at the players battling for a spot on opening day.
KC Royals fans can rejoice as baseball has officially started again. While it's not the regular season yet, spring training will do for now. The Royals kicked off the spring training season in the Cactus League opener against the Texas Rangers. Though they lost the tight game 4-5, there were some positives throughout the game, and hey, at least baseball is back.
Fans can finally see players from the 2019 season and new players who are looking to leave their mark on the team. Luckily for Royals fans, one player from 2019 made it clear very early on that he was continuing his success from the previous season.
In his first at bat of spring training, Jorge Soler managed to launch a home run into outer space. There was some question concerning Soler's success in 2019 and whether or not he would be able to continue his progress into the future. It's only one homerun, but he looks to be putting those concerns to bed early.
It should be noted, of course, that spring training stats should typically be taken lightly. Pitchers throw only a few innings to start and are held to low pitch counts. Plus with a load of young pitchers on each team, the pitcher to batter match up could post a young inexperienced pitcher against someone like, well, Jorge Soler.
Still, it's nice to see some power starting early for the Royals when power is typically something that the team falls short on. But, Soler wasn't alone in showing the power that he wants to bring back to Kauffman this year.
Ryan O'Hearn followed Soler's lead and hit a dinger himself in his first at bat of the game. While again, it's the first spring training game of the year, this is the bar that O'Hearn wants to set. He is fighting for his right to the first base spot and showing his power has returned after a season decline will only help his argument.
It will likely be a spring training full of twists and turns as the team is working with a lot of new staff, including Manager Mike Matheney, and almost too many pitchers to keep track of. One can only hope the pitchers all get on track, and the homeruns keep flying.
Are there any players from the first spring training game that stood out to you? Let us know in the comments.