2020 KC Royals player season preview: Alex Gordon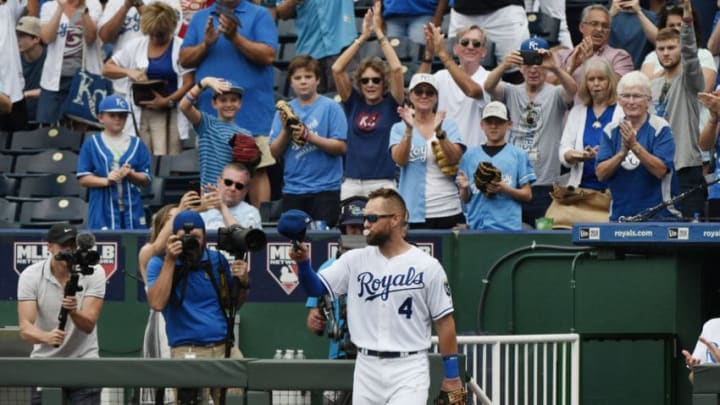 (Photo by Ed Zurga/Getty Images) /
Alex Gordon had a decent 2019 season. He's elected to run things back in 2020, but how good will he be for the KC Royals?
Welcome to the continuation of Kings of Kauffman's 2020 KC Royals season previews. Leading up to spring training, we'll be breaking down 30 different Royals. Our analysis will include what they accomplished last season, what to expect this season, along with any other information pertinent to the player. Today's subject: Alex Gordon.
Believe it or not, it's been 15 years since Gordon went No. 2 overall to the Royals in the 2005 MLB Draft. It's been one heck of a ride for him, as early in his career he played third base and was demoted to AAA in order to figure things out. And figure things out, he did.
From 2011-2015, Gordon was one of the best outfielders in all of baseball. Over the course of that five-year span, he won four Gold Gloves, made three All-Star teams and finished in the top 25 in MVP voting twice. In addition to being extraordinary in the outfield, Gordon's average OPS+ of 121 cemented his status as a pretty solid hitter as well.
He'd be rewarded for that amazing play in 2016, signing a four-year, $72 million contract ahead of the season. A troublesome year followed, then Gordon hit rock bottom in 2017. Posting a .208/.293/.315 line and a .608 OPS, he was one of the worst hitters in baseball. He managed to improve some in 2018, leaving hope for a decent 2019.
What did he offer last season?
Decent would be a good way to describe Gordon's 2019 season. He put together his best season at the plate since 2015, hitting .266 and reducing his strikeouts to 100. His defense in the outfield fell off in a big way, but he was still clearly an above-average player in that aspect.
Overall, Gordon was around a one-win player last year. Slightly above average if you place emphasis on defense, but his performance at the plate was close enough to the league norm that he graded out well metrics-wise. The Alex Gordon of old is not coming back, but this version found new life at the age of 35 last season.
What should we expect in 2020?
Here are two stat line projections for Gordon's 2020 season, courtesy of Baseball-Reference and FanGraphs:
B-Ref: .241/.319/.372 line, 1 3B, 13 HR, 61 RBI, .691 OPS
FG: .258/.334/.406 line, 1 3B, 14 HR, 57 RBI, .740 OPS
Most of the comparisons we've made in this series have been pretty similar. Luckily, this time around, things differ a bit. FanGraphs projects Gordon to have a similar season to last year, seeing his OPS drop by just .01. Baseball-Reference isn't quite as high on him, anticipating that he'll return to his 2018 form at the plate. Further away from the league average, but also still comfortably ahead of his 2017 numbers.
What I find interesting about both systems: Both say Gordon will get more than 500 plate appearances. It's been established by some on this site that bringing Gordon back for 2020 would drop hints about the rest of the team's plans (good article, Michael). Both B-Ref and FG expect Gordon to force the likes of Brett Phillips and Bubba Starting — among others — to remain on the bench for the most part.
The verdict
Alex Gordon isn't what he used to be. We know this. What's hard to predict, though, is how he'll play now that he's a 36-year-old. I'd assume he'll need more time off than he ever has, which might bode well for his batting average and on-base percentage. On the other hand, if he's relegated to a part-time role at some point in the season, could that throw him out of rhythm? Taking the middle ground between both of the above projections is probably the safest call.
What do you think, KC Royals fans? How often will Gordo play in 2020? Does he still have something left in the tank?