KC Royals: The curious new contract of Alex Gordon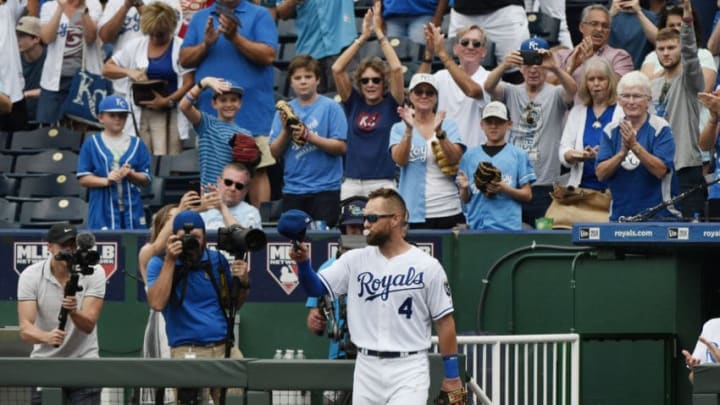 (Photo by Ed Zurga/Getty Images) /
Few were surprised Wednesday when the KC Royals announced fan-favorite Alex Gordon will return for another season. But the club's All-Star Gold Glover has an interesting contract.
Any remaining doubt that Alex Gordon and the KC Royals would continue the relationship forged when they made him the second overall pick in the 2006 amateur draft disappeared Wednesday when the club announced a new one year contract with the popular All-Star and Gold Glove left fielder.
A new Gordon deal had been rumored for some time and appeared close to consummation a few days ago when media outlets throughout the country reported an agreement was imminent.
Assuming media reports of contract terms are accurate, the deal is straightforward but curious. According to his sources, Royals' mlb.com beat writer Jeffrey Flanagan reports KC will pay Gordon $4 million for one season's services. It's an unremarkable sum within the context of contemporary big-league finances, even for the small market and frugal Royals.
The salary is commensurate with the length of the contract and Gordon's performance. Although he won his seventh Gold Glove last season and improved at the plate, his overall offensive performance during the four-year term of the $72 million contract that expired with the end of the 2019 campaign was notoriously below expectations, especially considering the deal's $13 million average annual value.
It is Gordon's reported waiver of his "10&5 rights" in the new deal that is curious. Under terms of the collective bargaining agreement between major league clubs and their players, a player can refuse any trade if he has 10 years big-league service and five consecutive years with his present team. Gordon fits that bill–he broke in with the Royals in 2007 and hasn't played for any other team since. Players rarely waive those rights but when they do, they prefer to wait until teams want to trade them. Service rights give them leverage, pure and simple.
But Gordon, his sources tell Flanagan–a writer known for his diligence and accuracy–waived those rights up front, but didn't do so for nothing. The Royals must pay him $500,000 if they trade him.
More remarkable than Gordon's 10&5 waiver, however, is that he waived at all. Because 10&5 rights arise from the clubs' agreement with the players' union, and unions are loath to see members surrender contract rights, players seem to waive only when a specific, imminent trade is advantageous to them. And there is little chance the Royals insisted on the waiver. Their long, close relationship with Gordon suggests they wouldn't have employed such pressure, especially considering their desire for Gordon to return has been no secret.
Moreover, Gordon has long suggested he doesn't want to play for any club but the Royals. But to now relinquish his 10&5 rights suggests he is open to other, perhaps greener, pastures in the midst of what is certainly the twilight of his career. So what may be behind his decision to waive 10&5 protection?
The waiver means nothing, so why not do it? It is improbable that Gordon agreed to a contract term, especially one protecting where he works–a key term and condition of his employment–because it means nothing. This isn't to say labor and employment contracts never include throwaways–they do, primarily as minor bargaining concessions–but 10&5 rights are neither hollow or shallow. Simply put, Gordon has been around too long and is too savvy to disregard his rights for nothing.
He needs the money. Maybe Gordon craves the $500,000 trade bonus he'll receive if the club moves him. This seems unrealistic, especially in light of the $72 million the Royals paid him for his last four seasons' work, not to mention the $4 million buyout they paid him when they declined his $23 million option for 2020. $76 million dollars goes a long way; money was probably not the object of the 10&5 waiver.
He's doing the KC Royals a favor. Gordon may have waived 10&5 because the team wanted him to. Although it's unlikely the club conditioned a new deal on the waiver, it may have asked for it because management considers Gordon a potential mid-season trade chip to tempt needy clubs to pony up prospects for the veteran outfielder (more on that later). Or perhaps Gordon, out of obvious loyalty to the KC Royals, may have waived to make himself available for trade to relieve, later in the season, the potential Royals' outfield jam his return creates, and to collect prospects.
Either possibility, standing alone, is improbable–it's difficult to see Gordon, with his professed preference to finish up with KC, agreeing to move on in the last days of his career. A Gordon trade won't command a significant number of prospects in return; if he wants to make room for younger outfielders, he could simply retire now or during the season.
He wants to go out a winner.  Chances are good that 2020 will be Gordon's last season and, knowing the Royals aren't destined for the postseason, he may want to play his last games in October.  While the pain of being stranded at third base with the tying run when the Royals made the last out of the 2014 World Series had to be excruciating, Gordon became a champion when the club won the '15 World Series title.
Changing clubs this late is also inconsistent with Gordon's stated desire to end his career where it started. Baseball players like to win, however; that winning may no longer be important to a player like Gordon is unthinkable, so he may want another taste of the glory of 2015. If anything could pry Gordon away from Kansas City, it could be the chance to play October baseball one last time.
General Manager Dayton Moore's comments to Flanagan about Gordon's 10&5 waiver lend credence to two things–that Gordon did, in fact, waive those rights, and going out a winner may be his motivation:
Moore isn't known for misleading the media or for being disingenuous, so it would be wrong to discount his suggestions that winning is at the top of Gordon's baseball list and 2020 may not be his final season. The KC Royals won't contend this year and their chances of getting to the postseason in 2021 remain to be seen, but aren't great. Gordon's last path to October, then, may be with another club, a possibility implicit in Moore's remarks.
Clearly, Gordon prefers to take his final curtain call in Kansas City, but as his career winds down, his best playoff chances lie elsewhere. The drive to win may well be the reason he has apparently waived his right to veto a trade.
Alex Gordon is back in the fold of the KC Royals. But the reported waiver of his right to veto trades may signal his willingness to finish his career with another club. Time will tell if he's prepared to move on if the opportunity to win presents itself.