KC Royals: Internal competition will be key in 2020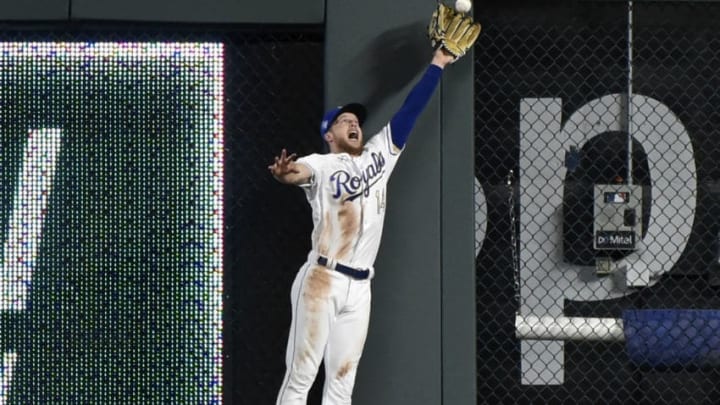 KC Royals, Brett Phillips (Photo by Ed Zurga/Getty Images) /
While many teams have a set player for each position, the KC Royals seem to have multiple for each spot which could help push progress in 2020.
For the KC Royals, the 2020 season is likely going to bring another season of struggle, but also a season of growth. The team looks as though they may be leaning into the younger players they have on the roster and seeing what they can provide. While this could still change pending any free agent signings, if the team continues embracing its young players and prospects, there will likely be some good progress.
One thing that really stands out for the Royals in 2020 is that while there are many players on the team who proved their worth in 2019, it seems as though there aren't many spots that aren't up for grabs at the moment. As long as Mondesi is healthy, it can be assumed he will continue at shortstop, along with Salvy returning to catch, but there will be a lot of movement elsewhere.
Had someone suggested at the end of 2019 that even though Hunter Dozier had a great year (could improve defensively) the team would sign a third baseman, it may have sounded like a joke. But, this is the reality the Royals are working with right now.
There are two players who can play third base, two for second, two for first, and while it includes some of those in other positional battles there are six that could potentially find their way to the outfield (7 if Gordon returns). It's a bit of a mess, of course, but it could spell potential progress for the Royals position players.
What this type of dilemma can cause and push towards other players is the reinforced idea that they must produce, or they will not play. For those with options, they could see much of the season in the minors. Those without may see their time cut short in Kauffman Stadium.
While the "ultimatum" approach might not be favored by some, at the major league level, if you can't produce and someone else can you are likely to be given the back seat; though, if there is any team to break this trend (or that has broken it), it would be the Royals.
The point is, with jobs on the line, it may cause a few players to finally find their sweet spot and have the breakout season they desperately need. First base will see Ryan O'Hearn vs. Ryan McBroom. Third base is likely to be covered by Maikel Franco for now meaning Hunter Dozier will move to the outfield with Whit Merrifield, who could be displaced by Nicky Lopez at second.
Jorge Soler will receive some, though probably little, time in right and Bubba Starling and Brett Phillips will be fighting for some time in the Kauffman canyon. Some of these listed players have proven their potential and have earned spots, while others still need to show some worth.
One can only hope that the immediate need to claim their spot or take a seat will drive a few of these players to success and help them to improve in the most needed areas. Of these, the biggest push will likely be seen between the Ryans at first, and Phillips and Starling in the outfield.
All four of those players still need to prove themselves offensively. McBroom looked good in the limited time he was seen in 2019, but he will have to continue to hit well over the season. With McBroom doing well though, O'Hearn may finally rekindle the 2018 power that took Kauffman by storm.
As for Starling and Phillips, the first to find success at the plate will likely be rewarded. If neither of them can get things going, there may be some young players looking for their chance in the minors.
Of course, at this point in the offseason, all of this is speculation and opinion. There may be changes and decisions being made by management that just haven't been released, and there is always the possibility of continued signings, and Alex Gordon returning for another year.
In 2020 and the following years, though, one of the driving factors behind many of the players coming to Kauffman will likely be the internal competition to find their place. Fans can only hope that his drives progression, brings in some wins, and just as importantly, provides some entertaining baseball.
There is no telling what 2020 will bring with plenty of positional battles, new ownership, and a new manager taking his place. Hopefully, the team will be able to put the 100 loss seasons behind them and push for progress. Are there any internal competitions you think will push players to finally find success?