Royals: Through the years, plenty of reasons to be thankful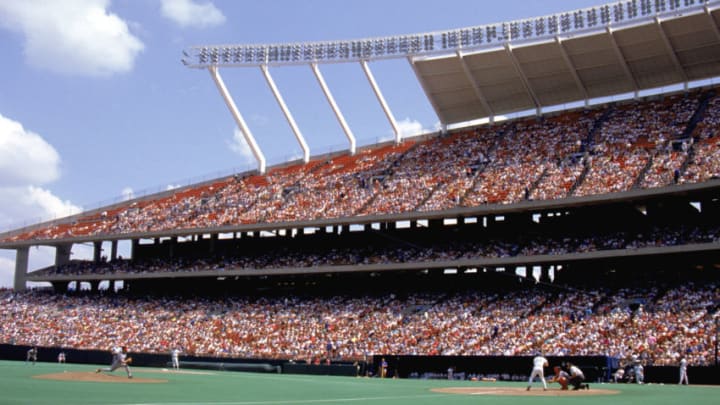 (Photo by Jonathan Daniel/Getty Images) /
(Photo by Christian Petersen/Getty Images) /
The Royals are again in the middle of a rebuild with inconsistent results. The hope for the future lies in the minor leagues.
Alex Gordon will never play for another winning Royals team. All signs from ownership and management would seem to suggest we will not even attempt to field another winning team until Alex Gordon is retired. While that is unfortunate, it is understandable that a team may have to go through a rebuild of sorts from time to time.
What concerns me about the Royals right now is that they seem to be suggesting that they have to suck for five to seven years at a time in order to compete for three or four years. What concerns me, even more, is that Royals fans seem content with this setup.
My antipathy towards the Royals' rebuilds comes from a place of love. I love the Royals. There will never be a professional sports team that means as much to me as the Royals do. But loved ones must be honest with each other sometimes. And, I honestly do not see the plan right now.
We have signaled we have no interest in competing in 2020. But are we going to trade Whit Merrifield to make ourselves better in 2022 and beyond? I do not think we will. Did we trade Ian Kennedy for a package including Joey Wentz when we had the chance? No.
I struggle to understand the plan that includes holding onto trade chips past their maximum trade value when we know they will be past their prime by the time we need players to actually win games that will matter. Our minor league system is not currently good enough to assume it will field a pennant-winning team in a couple of years. That is just not realistic. We need to make improvements, to add pieces.
Our 2018 draft was phenomenal. We will start 2020 with as much pitching as you could hope for moving towards the top of our minor league system. So, we need to make some moves to get some hitting that can accompany them to the majors when the time is right.
I ask a lot of my Royals. I expect better than consecutive 100 loss seasons. I expect them to field a product worthy of the Royals of the past. I expect them to respect the names of John Mayberry and Whitey Herzog and George Brett and Frank White by putting teams out there that are competing to win every day. I expect them to respect the fans. To respect the toddler sitting on his mom's lap next season in the middle of summer bouncing with anticipation at the idea of getting to see his heroes play the game in real life. And from this two-year-old boy in 1979 to the middle-aged man I am today, I thank them for everything they have given me along the way.