Kansas City Royals: Making the case, Diamondbacks free agents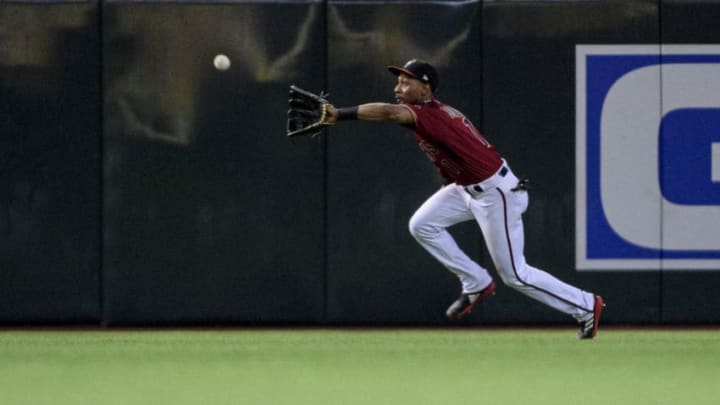 Photo by Jennifer Stewart/Getty Images /
Photo by Denis Poroy/Getty Images /
ADAM JONES, OF
Arizona outfielder Adam Jones is a five-time All-Star, four-time Gold Glover, a Silver Slugger award winner, and has slashed .277/.317/.454, averaged 20+ home runs and almost 70 RBIs in 14 seasons.
But Jones has his drawbacks. Because he turns 35 in 2020, Jones presents a dilemma similar to Jarrod Dyson: He's a decent veteran in the late innings of a good career, but his signing would sacrifice the progress of talented young players for a short-term benefit. The Kansas City Royals need to spend 2020 determining, once and for all, which of their young outfielders are in Kansas City to stay.
Pursue Jones or move on? Move on, but leave a bit of wiggle room. Jones could give the Royals a decent season or two, but at the expense of younger players who deserve chances now. Only if Alex Gordon retires should KC consider Jones as a short-term placeholder (and a good one at that) if they decide their youngsters need more work in the minors or aren't ready to play every day.
T.J. McFARLAND, P
T.J. McFarland is a lefty reliever, so he merits at least a glance. His nifty 2018 performance might draw the Royals' attention if Arizona doesn't exercise its 2020 $1.85 million club option and buys the 30-year old out for a mere $50,000. 2018 was truly excellent for McFarland, with some considering him possibly Arizona's best reliever that year. His 2.00 ERA over 47 games and 72 innings and his 2.25 RA9 (Baseball Reference's Runs Allowed per 9 Innings) was over 1.5 runs better than RA9 average (Baseball Reference's estimate of how an average pitcher would fare against the same opponents in the same parks, etc.).
But 2018 looks like an anomaly, sandwiched as it was between McFarland's 2017 ERA of 5.33 and a 7.09 RA9 that was almost 2.5 runs worse than RA9avg, and 2019's ERA of 4.82 and 5.63 RA9, almost 1.5 runs worse than the RA9 average. In fact, only twice in his seven seasons has McFarland's ERA been lower than 4.46, a marginal level for a reliever, and only twice has his RA9 been better than the RA9 average.
McFarland has also bounced back and forth between the majors and minors for seven years. His 18-14 record in 262 big league games is passable, but hardly eye-catching. His career 0.3 WAR doesn't turn many heads and he's posted a negative WAR in four of his seven seasons.
Pursue McFarland or move on? Move on. McFarland's one fine season among seven shouldn't excite the Royals, who have unfortunately spent much recent time and money on similar relievers only to see them fail. Now, they need to invest time and money in their own relievers: Richard Lovelady, Kyle Zimmer, Scott Barlow, Tim Hill, Josh Staumont, Jake Newberry and Gabe Speier all come to mind.
There's also talk of Danny Duffy returning to the bullpen and speculation that Jake Diekman liked KC so much that he may want to return if he and Oakland don't exercise their mutual option. The Kansas City Royals have enough relievers to work with and, if they really want to pursue another, there are better choices on the market than McFarland.
The bottom line: The Kansas City Royals should go after Wilmer Flores if the Diamondbacks buy him out and should give at least some thought to a short-term deal with Adam Jones if Gordon retires. And that's as far as KC should go with Arizona's free agents.