Kansas City Royals: Making the case, Diamondbacks free agents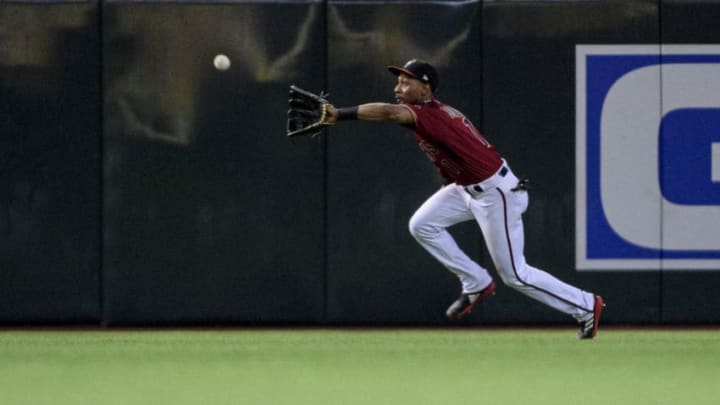 Photo by Jennifer Stewart/Getty Images /
(Photo by Ed Zurga/Getty Images) /
Continuing our series about potential 2020 free agents, we consider the more notable Arizona Diamondback free agents the Kansas City Royals may be (or may not be) interested in.
The Arizona Diamondbacks have some problems. They play in the National League West, a division now won seven straight seasons by the Los Angeles Dodgers. They traded Zack Greinke and must spend the winter searching for a suitable replacement. And free agency may cost them some serviceable players. Should Kansas City Royals General Manager Dayton Moore pursue any of the Diamondback free agents? Let's find out.
Jarrod Dyson, OF
Here's a familiar name. Dyson broke in with the Kansas City Royals 10 years ago and soon became a fan and franchise favorite. Fans were miffed when KC traded Dyson, a solid player blessed with blinding speed and serviceable defensive skills, to Seattle in 2017 for Nate Karns. The deal never bore significant fruit for the Royals and fans have longed for a Dyson-KC reunion, talk of which is sure to accompany his free agency.
However, the Dyson Royals fans loved is now, at age 35, a mixed bag. While his .230/.313/.320 2019 slash line was better than 2018's .189/.282/.257, he is simply not an everyday offensive threat nor an everyday player. Defensively, he's not as good as he used to be, but he has good range and makes occasional flashy plays.
Dyson, though, is still fast. He's stolen 46 bases–30 in 2019–in his two Diamondback seasons. When he gets on base, he's still a serious threat to steal.
So it's speed and popularity that constitute Dyson's real value to the Royals. Value, though, is relative and measurable only within context — the Royals outfield is crowded and uncertain, with several players vying for spots. Nothing can begin to be settled until Alex Gordon decides whether to return or retire: left field is his if he returns and wide open if he doesn't. Brett Phillips, Bubba Starling and Jorge Bonifacio are already set to compete for spots to complement Jorge Soler, Whit Merrifield. Perhaps even Hunter Dozier, who the Royals could rotate in and out of right field.
Phillips and Starling are locks to get long looks–although both are coming off uninspiring seasons, each showed flashes of their known talent and skills and warrant further serious consideration. Bonifacio is a long shot to make the club; although he displayed characteristic power at AAA Omaha with 20 home runs, he has otherwise struggled since returning from 2018's 80-game PED suspension and appeared in only five big league games in 2019.
Erick Mejia and Ryan McBroom also saw time in the 2019 outfield and may get more looks, at least in spring training. And whether the Royals continue the Dozier outfield experiment remains to be seen. All that leaves little room for Dyson. A reunion is tempting, but the Royals may not be inclined to give much playing time (or money) to an aging veteran at the expense of younger players.
Dyson isn't a good candidate for the 26th spot once the rosters expand for good on Opening Day. He's merely an outfielder and the Terrance Gore experiment suggests a light-hitting pinch runner won't be much use to the Kansas City  Royals.
Pursue Dyson or move on? Move on. Sentimentality and speed aside, Dyson's age and weak bat,  and the Royals' need to play youngsters at crucial career crossroads, make signing him unwise.